Starting Saturday,
Phipps Conservatory and Botanical Gardens
will be open until 8 p.m. nightly (and 10 p.m. Fridays) in anticipation of
a rare bloom
by its reeking corpse flower, Romero.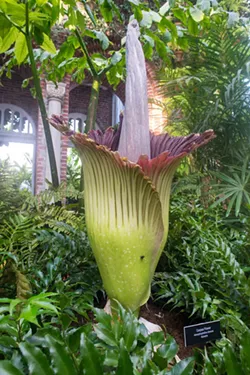 Named for filmmaker George Romero (
Night of the Living Dead
), Romero the corpse flower is one of the most famous plants at Phipps.
As you might imagine, corpse flowers, found wild only in Sumatra, mimic the scent, look and even temperature of rotting flesh to attract the insects that pollinate them. However, they typically bloom only once every six to 10 years for 12 to 48 hours. And while the bloom is expected this month, Phipps says that the exact timing is impossible to predict.
Romero
last bloomed
in 2013, to record-breaking crowds. After blooming, the flower went dormant for eight months before sending up leaf buds that reached 12 feet high. More than 12,000 guests visited Romero the last time the corpse flower began to emit its rotten stench, even its namesake filmmaker.
Phipps horticulturalists are monitoring the rise of the current 8-foot-tall bloom at the conservatory's Palm Court and updating fans on social media. (
@RomeroatPhipps
is the flower's Twitter handle.)
In light of this rare event, Phipps is offering two months of free membership to applicants through June 17. Activities expected for the ghastly bloom will be posted to
phipps.conservatory.org
or call 412-622-6914 to find out more.
Phipps Conservatory and Botanical Gardens are at 1 Schenley Drive, Oakland.