Pittsburgh's own
nationally touring performance-art rock band
is set to debut its latest spectacle,
Cycle Sonic
, next week at the Dollar Bank Three Rivers Arts Festival. The
six performances
are sure to be a highlight of the 57th annual fest, but the group is still fundraising to complete this pedal-powered project, and bring it to its fullest realization in the community.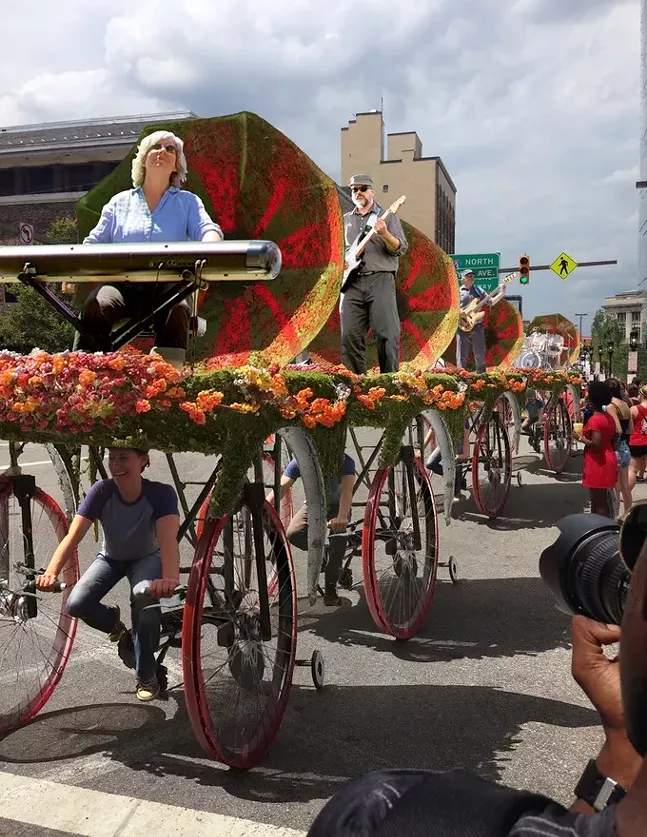 As of this morning, the
Kickstarter campaign
to raise $5,000 for this "pageant of bike stages" had 10 days to go and needed about another $1,900.
Cycle Sonic
, another in Squonk's line of free, musical, prop-filled spectacles in public settings, consists of four double-decker bikes, each with a pedaler/driver underneath and a musician on top. (A fifth musician will be on foot.)
From the Kickstarter Project Description: "Combining elements of circus parades, bike formations and marching bands, these bicycle floats will sprout bulb-horns and banners, whirligigs and whistles, the swirl and thump of wheel and pedal. A pageant of double-deckers and giant puppet bikers will circle the audience, with backdrops of undulating flags and 20-foot legs pumping with the rhythm of sustainable power. With no carbon footprint, this traveling event will combine the thrill of live performance with the uncelebrated world of the everyday."
Squonk has been a staple on the local arts scene since its debut a quarter-century ago, combining adventuresome art-rock with surrealist stagecraft; the critically acclaimed group has played Broadway, performed internationally, and even
survived a stint on TV's America's Got Talent
.
Squonk premieres, meanwhile, are a familiar sight at the Three Rivers Arts Festival, including 2012's
Pneumatica
and 2012's
Go Roadshow
(mounted on a flatbed truck). Both shows were aided by Kickstarter campaigns, and both went on to tour nationally, just as
Cycle Sonic
is set to do.
Cycle Sonic
is unique in that through the cycling component it promotes public health and green energy, and Squonk plans to create "hands-on physics demonstrations for free workshops for public schools and community groups."
The Kickstarter campaign runs for
Cycle Sonic
runs until about 10 a.m. Sat., June 11, just hours before the show's first performance.