Compared to the past few years, things have been relatively quiet at the Allegheny County Jail, in terms of inmate deaths. One inmate has died this year — an apparent suicide last month — compared to the 11 deaths that occurred there over the previous two years. The
high death toll
led the county to not renew the contract with private for-profit health-care provider Corizon and retake control of inmates' medical needs.
But the Allegheny County Jail Health Justice Project, an advocacy group that launched last year to address the ongoing health-care issues at the jail, believes that just because mortality rates are down, that doesn't mean that alleged abuses are not ongoing. In response to more than 20 complaints they have received from inmates and their families, the project is launching a documentation campaign to spread the word.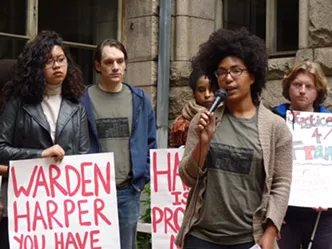 "The ACJ Health Justice Project has continued to receive stories of severe medical neglect and abuse at the Allegheny County Jail, even after the supposed county takeover of health care in September of last year. People incarcerated at the ACJ go weeks if not months without the medication they need to survive and be well. Our community members are coming out of the ACJ worse than when they went in, and that is unacceptable," says ACJ Health Justice Project member TeOnna Ross.
Julia Johnson, of the Health Justice Project, says they are looking to compile more than 200 stories of neglect and abuse at the jail. Those wishing to submit to a survey can email ACJInmateAdvocates@gmail.com or visit
healthjusticeproject.wordpress.com/take-the-survey
. The group also plans to produce a short documentary film about health care at the jail as part of the project.
"We have heard from inmates that come into the jail with illnesses, and as soon as they tell staff about those illnesses, they are ignored or denied treatment," says Johnson.
City Paper
has also received letters over the past eight months from multiple inmates claiming medical neglect.
The group is hoping the survey will help catalyze their mission of getting warden Orlando Harper fired and help fulfill a list of demands that include the jail pharmacy to be fully stocked and its status reported bi-monthly to the public; a federal Department of Justice investigation of the jail; and for random tours of the jail to be completed by the county controller.
"It is clear that Harper will only continue to ignore the human right's violations that are going on at the jail," says Johnson.
Allegheny County executive
Rich Fitzgerald
has repeatedly
defended Harper
and has said his job as warden is secure. County spokesperson Amie Downs says the county does not have a comment on the press conference. Downs did say that county officials met with the advocates months ago and asked them for documentation of alleged claims, but the advocates were unable to provide them.