The Pennsylvania Department of Transportation's Bike/Pedestrian Coordinator Roy Gothie knows the state's bike and pedestrian policies need to change, and it starts with a change in culture.
At a meeting of the Southwestern Pennsylvania Commission, Gothie told the forum of 25 representatives from planning departments, advocacy groups and community groups that there were a few obstacles to improving the bike and
pedestrian infrastructure
on state-owned roads, but one of the biggest is encouraging PennDOT employees to adopt a bike/ped-friendly mindset.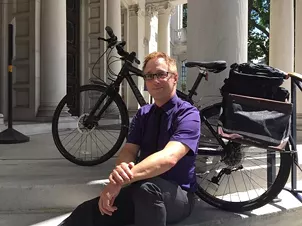 "PennDOT doesn't think that way," Gothie said when responding to a question about why it could take two years to implement bike/ped changes. "They were trained to focus on cars, we need to change the culture."
He said he plans to make sure that bike/ped projects are included in the start of the planning process for road design and fund seeking. Gothie said that bike lanes and sidewalks are normally attempted to be tacked on, after the process is already in full swing, which often leads them to be left out. "This is a need, this is not a nice extra," said Gothie. A pilot-training program will begin next month to educate PennDOT staff at district offices across the state on the merits of bike/ped infrastructure.
He pointed out that the his office still receives very limited funding from the state but hopes to encourage legislators to carve out some additional bike/ped funding or
update rules
. PennDOT will also be starting a program that funds the maintenance of a limited number of priority bike lanes on state roads, something that was normally left up to municipalities.
Gothie also said the he and his team will be working to update the bike/ped policy in PennDOT's master plan, which hasn't been updated since 2007. "We need to change our antiquated document into something a little more progressive." Driver and cyclists education is also receiving added attention from Gothie. He says the Pa. driver's test "maybe has two questions" related to bike/ped issues, and so he will be working with the state's education and health departments to create a cooperative plan to improve education about bikes, cars and pedestrians on our roadways.
Scott Bricker of bike-advocacy group Bike Pittsburgh says the meeting was "enormously encouraging."
"[Gothie] identified every hurdle that has been placed in front of people that causes them not to get bike lanes," says Bricker.
Bricker agrees that the culture around bike lanes needs to change but points out a reason why PennDOT employees might not have priorities towards bike/ped infrastructure: most PennDOT district offices are located next to high-speed highways that rarely have bike lanes or even sidewalks.
Bricker is pleased with Gothie's plans because most of the main routes through Pittsburgh and around Allegheny County are owned and operated by the state. He says much of the best
bike infrastructure
in the city was done on routes operated by the city or county, like the Penn Avenue protected lane and the protected lanes on the Roberto Clemente Bridge.
Gothie said he hopes to have policy updates completed by the end of the year, but would not give any hard deadlines. He said once the drafts are released, the state will be looking to receive public input.