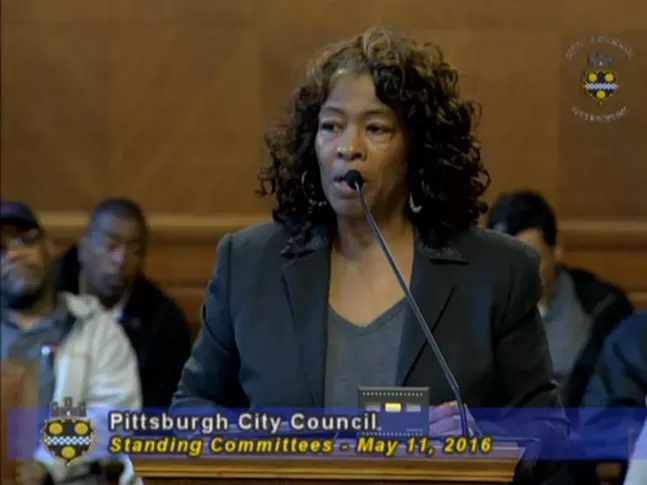 Following in the footsteps of neighboring neighborhoods in the East End, Homewood is poised for redevelopment. But in a continuation of what has happened in the neighborhoods surrounding it, this week Homewood residents attended a Pittsburgh City Council meeting to say they're being left out of the revitalization process.
"We have several different community groups that are supposed to work with the [city], and that's not happening," said Karen Gillian, president of the Homewood Tenants United Union.
As part of his "City for All Agenda", Homewood representative Ricky Burgess recently launched the the HELP (Homewood, East Hills, East Liberty, Larimer, Linconln-Lemington-Belmar) Protection Initiative to "bring together public and private partners to develop an East End multi-neighborhood affordable housing protection strategy."
The city contracted with the Urban Land Institute to conduct neighborhood research, and on Friday, May 13, city council will hear the results of their study at a post agenda. But three Homewood residents testified yesterday that some East End community groups weren't included in ULI's study.
"When residents are not involved in the process, engagement is contested," said Cherylie Fuller, executive director of the Homewood Concerned Citizens Council. "Gentrification and displacement are growing concerns in community development and urban revitalization. Pittsburgh is in a period of resurgence, gaining renewed interest from people who want to live and work in urban neighborhoods. This has resulted in gentrification pressures in certain communities in Pittsburgh."
Fuller says she received an email from ULI too late for her to R.S.V.P. to participate in the resident interview process.
"Planning efforts seem to have been going on for some time," said Fuller. "Perhaps it would have benefited a resident-driven organization such as the Homewood Citizens Council to be involved in the planning process, because it would impact many soon-to-be displaced Homewood residents."
However, in an email obtained by
Pittsburgh City Paper
, Councilor Burgess contacted Fuller to say she still had time to participate after the initial deadline had passed.
"Anybody who wanted to participate from the community groups that I knew, I invited to participate," says Burgess. "It's really important that we have a resident-driven process."
Burgess said he didn't know which community organizations and residents were included in the study because the interviews are confidential, but he said he knows community organizations were interviewed.
At council, speakers said only certain community organizations were included. East Liberty Development Inc., is leading the initiative to develop the strategy for preserving affordable housing in the East End, and Fuller expressed concern about their involvement considering the number of residents she says were displaced from East Liberty during its redevelopment.
"As we continue to move the Homewood community forward, we don't endeavor for it to be a repeat of the negative publicity surrounding the gentrification in East Liberty where residents felt they weren't a part of the process," says Fuller. "Many of them are now homeless, and they're displaced."
East End resident Judith Ginyard also testified at yesterday's council meeting. She criticized Burgess and echoed the sentiment that neighborhood community groups haven't been included in redevelopment plans.
"Unfortunately with the community development that's going on, the process does not permit the community residents to be involved. Things are being dictated from down here in city council, especially from you Rev. Burgess," said Ginyard, who has run against the councilor in past elections. "The community residents demand to have a voice and to be included in the process early on, not at the end."