This
nonprofit
has come a long way since 2004, when it was launched to shelter a single writer under threat of persecution. (The first was dissident
Chinese poet Huang Xiang
.) Yesterday, the group that's since become one of Pittsburgh's top literary organizations announced that its big plans for a new headquarters are just months from completion.
Alphabet City, located in the North Side's former Masonic Building (right next to the landmark former Garden Theater), will include a name wine-and-cheese café, a bookstore, and event space accommodating up to 225.
While yesterday's press event drew dignitaries including Mayor Bill Peduto and County Executive Rich Fitzgerald, the space is still quite raw. Green tarps billowed from the building's façade onto West North Avenue, and the 100 or so press and visitors were required to don hard hats to tread the plywood floor of the 9,000-square-foot space, currently stripped to plaster and I-beams.
City of Asylum has long been busy sheltering writers and hosting literary events with an international flavor, including its signature annual
Jazz Poetry event
; in 12 years, it's offered events featuring more than 300 writers and musicians from 60 countries, co-founder Henry Reese said yesterday. Last year alone, it drew more than 5,000 visitors to about 50 programs, all of them free.
This past November, the group became the U.S. headquarters for the International Cities of Refuge Network (ICORN), which called City of Asylum/Pittsburgh "
the model for the world
."
The $12.2 million Masonic Building reboot will allow the group to do even more: Some 150 programs are already planned in the first year of operation, according to press materials, starting with Sept. 9 and 10 readings by
Svetlana Alexievich
, the Nobel Prize-winning investigative journalist who fled Belarus in 2000.
The space will permanently host a 24-seat incarnation of Caselulla @ Alphabet City — the
wine-and-cheese café
is expanding outside of New York City for the first time — and City of Asylum Books @ Alphabet City, a bookstore specializing on books in translation (though it will also carry new and used books in English and operate a free-book program). Yesterday, Reese introduced the shop's inaugural manager: Lesley Rains, who's just completing the sale of her East End Book Exchange. (Rains tells
CP
that the new space will actually be bigger than EEBX, which lives in a Bloomfield storefront.)
The bookshop's shelves will be movable to allow for full use of the space.
City of Asylum assistant director Sylvia Duarte said programming for the space will include use of a large-scale video screen to show real-time interviews with writers overseas for
Sampsonia Way
, the online COAP magazine she edits. Among other programming, the venue will also screen banned films from other countries, and is intended to be "a hub for local writers," a venue for live jazz and children's storytelling, and more.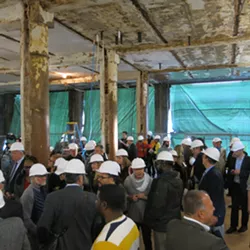 Collaborations are planned with organizations including The Andy Warhol Museum, the Carnegie Museum of Art, Greater Pittsburgh Literacy Council, YMCA and Propel Schools. "This center is for everybody," Duarte said.
In his remarks, Peduto praised the center and its mission. "It will connect the world," he said.
The center was created because City of Asylum wanted to bring all its programs under one roof: Though the group had redeveloped six houses on nearby Sampsonia way to shelter writers, most of its events to date been held under tents in vacant lots or on closed-off city street, or in small, repurposed indoor spaces.
The $12.2 million Alphabet City project was creatively financed with $8 million in New Market Tax Credit allocations contributed by the city's Urban Redevelopment Authority and PNC. Other funding includes $3.2 million from local foundations, including the Allegheny Foundation, The Benter Foundation, the Buhl Foundation, the Fine Foundation, the Heinz Endowments, the Hillman Foundation, the Pittsburgh Foundation and the Richard King Mellon Foundation.
Some $2 million remains to be raised to fund COAP programming at the site for the next three years, according to press materials.
A novel feature of the development is that the upper two floors will be built out as eight apartments (six market rate, two affordable). Rental income will fund COAP programs, according to press materials.