What went down in Pittsburgh this week:



1. Presidential candidate
Donald Trump visited Pittsburgh and, in his speech, name dropped "Big Ben",
asked the crowd about Joe Paterno
and promised to bring steel back to Western Pennsylvania.
City Paper
kept a
live blog
of events in Oakland, the rally in the Convention Center and the protests in Downtown. Also,
see our photos
from the day through the lens of photographers Renee Rosensteel and Aaron Warnick.
——————————————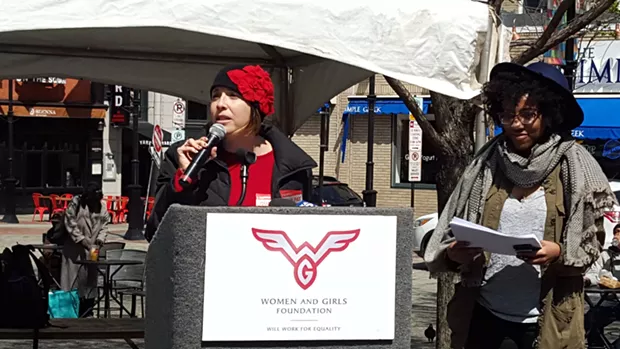 2. Equal Pay Day
, the day in April that signifies the point at which a woman's earnings finally catch up with a man's earnings from the previous year,
was marked with a rally in Pittsburgh's Market Square this past Tuesday
. In Southwest Pennsylvania, women make an average of 75 cents on the dollar. According to the Women and Girls Foundation. "This year, we've worked together to advance the causes of the Fight for $15, so we can raise the minimum wage in the state," said Heather Arnet, CEO of the Women and Girls Foundation who hosted the rally. "And we are working together to ensure all of us have paid family leave, so we don't have to move to New York or California to ensure we can take care of our children, parents or sick spouses."
——————————————
3. This week, misdemeanor charges
were dismissed against two teens arrested following an incident at the Wood Street T station incident
in Downtown Pittsburgh last December. The incident received considerable local media attention because of
video
of a Pittsburgh Police officer's conduct captured by
City Paper
staff writer Ryan Deto. (That incident is currently under investigation by the Citizens Police Review Board and the Pittsburgh Police Bureau's internal investigation office.)
——————————————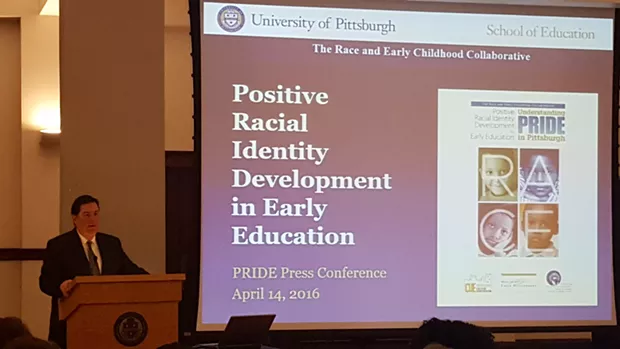 4. Racial bias
can form during early childhood and needs to be addressed during early education,
according to a University of Pittsburgh study
. The report, Understanding PRIDE in Pittsburgh, focused on African-American children ages 3-6. "By age 3, children are easily sorting people into categories," said Aisha White, one of the report's authors. "Parents are often surprised by the things kids pick up and absorb from the larger society."
——————————————
On our podcast: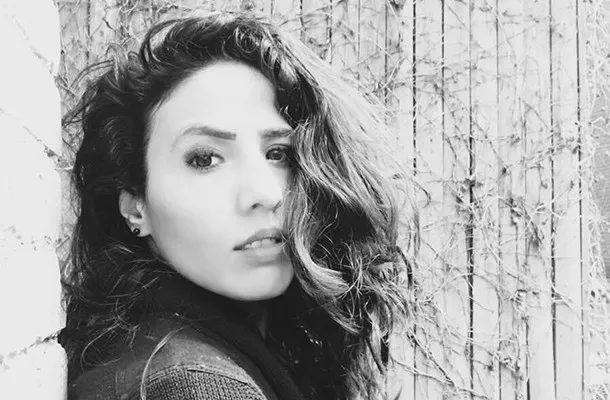 This week on the City Paper podcast
, producer Ashley Murray sends an audio postcard from Hillary Clinton's recent Pittsburgh visit, and she interviews Iraqi journalist and poet Sabreen Kadhim. Our panel, featuring editor Charlie Deitch and staff writers Rebecca Nuttall and Ryan Deto, talks
City Paper
election guide and about big races — including the U.S. Senate and Attorney General races — in Pennsylvania that are receiving less attention. And, food adventurist Celine Roberts learns how to be a fishmonger at Penn Avenue Fish Company.
——————————————

On Lynn Cullen Live:

Did you miss Lynn Cullen's recap of the Democratic debate and Trump's visit to Pittsburgh? Catch up on this week's shows on
Lynn Cullen's page on the City Paper website
.
——————————————


On our music blog:
Each week on our
FFW music blog
, we make a Spotify playlist containing tracks from artists mentioned in the current music section. Listen below!
——————————————


Behind the scenes: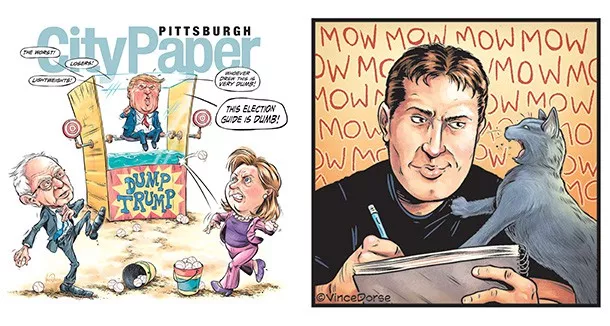 Our Election Issue cover this week — featuring presidential candidates Hillary Clinton and Bernie Sanders throwing balls at Donald Trump in a dunk tank — garnered a lot of attention, especially because the day it dropped, Trump arrived in Pittsburgh. Read a
Q&A with illustrator Vince Dorse
about the creation of this cover, as well as past covers he's designed for
City Paper
.
——————————————

From the pages of our print edition: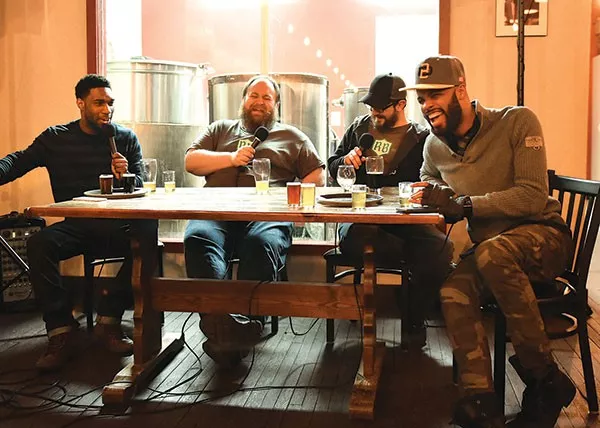 This week, freelance writer Cumi Ikeda looks at the
comedy-podcast scene in Pittsburgh
. Ikeda talks with standup comics Ed Bailey, Day Bracey and Aaron Kleiber, who host, respectively, the podcasts Drinking Partners and Grown Dad Business.
——————————————


This week in
City Paper
history:
On Tue., April 10, 2012, one hour before
City Paper
was scheduled to print its primary election guide, Pennsylvania's favorite conservative, Rick Santorum, announced he was suspending his presidential campaign. For a liberal alt-weekly that spent years wishing he'd just go away, one might think this was great news. But, sitting at the printer, ready to go to press, was that week's cover: Rick Santorum, illustrated as a zombie by local artist Frank Harris. The cover language? "HE'S B-A-A-A-CK! Is he pro-life or just undead? Either way, Pennsylvanians may have to kill Rick Santorum's political career again." A quick call to the printer followed. "STOP THE PRESSES!" With no time to find new cover art, then-editor Chris Potter changed the text to "IT'S (NOT) ALIVE! Do we have to wait until 2016 to ruin his career again?" Yup.
Read more about what happened this week in City Paper history
.