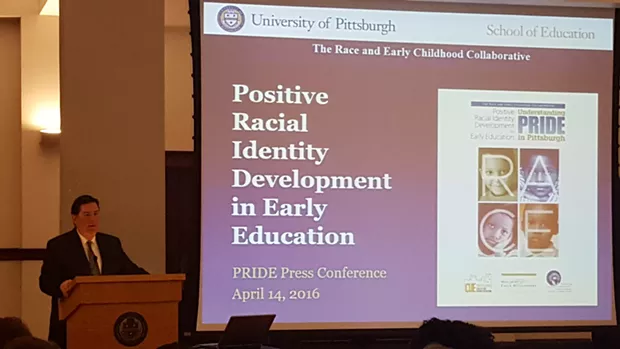 Unless you have a kid or family member 10 years old or under, you probably have never heard of Doc McStuffins. She's a 6-year-old cartoon character on the Disney channel who cares for stuffed animals and toys.
Essentially, she's an African-American veterinarian, serving as a role model for other Black children who might some day be inspired to study medicine.
"The kids who are of color see her as an African-American girl, and that's really big for them," Chris Nee, the creator of Doc McStuffins said in a 2014
New York Times
article.
But according to parents surveyed as part of a recently released University of Pittsburgh study, one children's show where the lead character is a person of color is not enough. That's because research suggests kids as young as six months old have already developed negative racial associations with African Americans.
University of Pittsburgh study,
Understanding PRIDE in Pittsburgh,
which was discussed at an event earlier today,
looked at the reasons behind these associations, their impact on education, and how to eradicate them. It focused on African-American children ages 3-6 within home and school settings.
"By age 3 children are easily sorting people into categories," said Aisha White, one of the report's authors. "Parents are often surprised by the things kids pick up and absorb from the larger society."
The report includes input from teachers, stakeholders and parents, as well as observations from local early childhood classrooms. It provides an action plan for protecting African-American children from the harmful effects of racism by supporting their positive racial identity development in early education (PRIDE).
"When young children have a positive racial identity, they are able to own and embrace their racial and ethnic heritage fully and with dignity," said White.
Overall, the report concluded that open and honest conversations, that do not ignore racial and ethnic differences, are important for kids and can begin at an early age.
"For all of us, we want to learn and grow around racial oppression," said Erika Gold Kestenberg, who contributed to the report. "We want to support positive racial identity development among young children of color and move away from the colorblind approach."
The report recommended several areas for addressing white privilege and systematic institutional racism in the community, homes and schools. Among the recommendations was that parents, teachers and schools should have access to resources to help them support positive racial identity development in kids.
"Parents are still grappling with their own early childhood racial experiences," said Medina Jackson, another contributor. "They urgently want to discuss race with their children but need assistance."
At a press conference today, researchers presented the findings of the report to the public and Mayor Bill Peduto.
"There are different ways in a city this large that can be broken down into individual parts and be implemented," said Peduto.
The report was researched and produced by the Race and Early Childhood Collaborative — a partnership of Pitt's School of Education's Office of Child Development, Center for Urban Education and Supporting Early Education and Development (SEED) Lab.