A performance of an original, site-specific work by local dancer and choreographer Gia T. Cacalano marks the
closing reception
of
Waterfall Vision
, an exhibit of new work by Jennifer Nagle Myers at 707 Penn Gallery.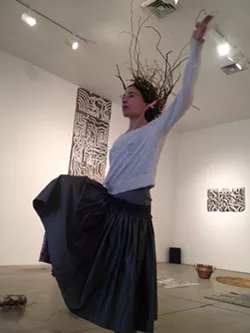 Tonight's event runs 6-8 p.m. A talk by Pittsburgh-based Myers follows the performance.
Cacalano's performance will respond to the exhibit, which Myers says explores "the relationship between the earth body and the human body."
The exhibit in the storefront gallery is dominated by "Waterfall Vision," Myers' 40-foot-long painting on 69 reclaimed slate roofing tiles that cascades down one wall of the gallery, across the floor, and up the other wall. Though essentially an abstract in black and white gesso and acrylic paint, the painting suggests, among other things, how forms in the human body and the rest of nature echo each other.
The exhibit also includes several smaller works by Myers and a soundscape by Sonarcheology Studios.
Waterfall Vision runs through Sunday. Admission is free.
707 Penn Gallery is located at 707 Penn Ave.