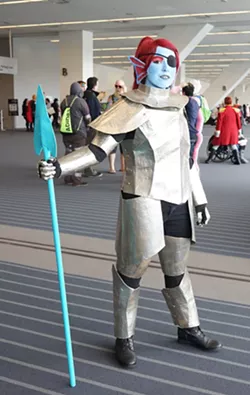 D
owntown is no stranger to colorful herds of costumed
visitors. The calendar of the David L. Lawrence Convention Center is full of
this con or that con. And while you may see the occasional furry or comic book super hero, this convention is for fans of Japanese culture.

Tekko 2016 opened its show floor on Thursday and will run through Sunday. The event is put on by the Pittsburgh Japanese Culture Society and is in its 14th year. The convention brings together anime, gaming and fans of Japanese culture and fashion. And while the event has been in Pittsburgh for more than a decade, attendance has "exploded" in recent years according to PJCS marketing director Jack Varney.
"We're taking this from a local event to a regional event," Varney said. "In order to differentiate ourselves from other conventions; we're not just anime alone. We cater to the gaming community. We cater to the Lolita fashion community. We cater to the music community."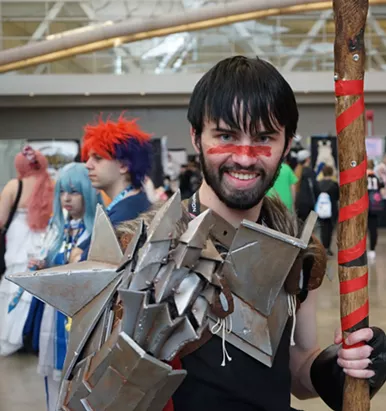 Tekko is several events rolled into one. One show floor is dedicated to gaming, where you can find Dance, Dance Revolution, pachinko machines and tables for trading-card games. Another show floor is set up for vendors to sell Funko Pop figures and Lolita dresses and accessories and other merch of the like. On Saturday, J-Pop band Back On will perform.
Tekko bills itself as a fun, safe and inclusive event. The inclusive aspect may be best embodied by one of the convention's newest vendors, Lolita Collective. The vendor comes from Chicago, and they travel to conventions internationally. This is their first year selling their product at Tekko. Lolita fashion comes from Japan and is based in part off of Victorian or Edwardian fashion. Think lace. Lots of lace.


"Loli
ta is
usually one-size fits all. We've expanded into
different sizes … we can complete the look regardless of body type, gender, you
name it." Lyz, one of Lolita Collective's shopgirls
, said. "One time, I helped a
trans person find her first dress. It was incredible. She was crying. ("I was
crying," Erin, another shopgirl chimed in) It was a big moment."
In 2015, Tekko brought in roughly 6,000 people according to Varney. He anticipates that this year's attendance could be as high as 7,500.

While Tekko is on track to bring in a lot of new faces and costumes, some long-time attendees have made the annual trek to Tekko a tradition.

"It's like Thanksgiving, you come together with your family," Foster Owens, who has been coming to Tekko since 2008, said. "Every year you can come and meet someone new to be friends with … and … ya know, be nerds together," said Owen's friend Katie. Some people do more than make friends at Tekko. According to Varney, several people who have met at Tekko went on to get engaged. On Saturday, the convention will host its first wedding. The wedding party will be in full costume.