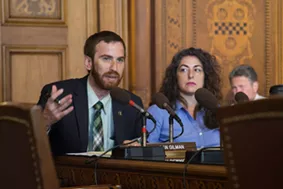 It's been more than a year since Pittsburgh City Councilor Dan Gilman proposed legislation to provide private lactation rooms in city buildings. But today Gilman announced two private lactation rooms are now available in the City-County Building and the John P. Robin Civic Building.
"Too often, those nursing are forced to breastfeed in uncomfortable, inadequate, and exposed spaces," Gilman said in a statement. "If Pittsburgh is to become a more family-friendly and progressive city, we must continue accommodate the needs of working women and families."
The lactation room legislation was part of
a package of bill
s aimed at improving working conditions for pregnant women and nursing mothers.
The lactation rooms are located on the first floor of the Robin Civic Building at 200 Ross Street and on the sixth floor of the City-County Building at 414 Grant Street.