Artist-information sessions begin this week for the
Temporary Public Art and Placemaking Program
.
The initiative of
Neighborhood Allies
and the city's
Office of Public Art
seeks to team community-based organizations, artists and residents to develop a temporary work of public art to be displayed in each of six communities in both Pittsburgh proper and first-ring suburbs. The neighborhoods are Millvale, Larimer, Homewood, Wilkinsburg, the Hill District and the Southern Hilltops.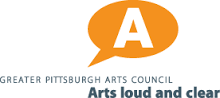 The artist-information sessions, each hosted by a participating community-based organization, will help artists learn about the program and the application process.
Five info sessions remain, starting with tomorrow night's at the Kingsley Center, 6435 Frankstown Ave., in Larimer, at 5 p.m. Wed., March 30.
* The Homewood session is at 5 p.m. Thu., March 31, at the Carnegie Library of Pittsburgh – Homewood, 7101 Hamilton Ave.
* The Wilkinsburg session is at 4 p.m. Mon., April 4, at Landmarks Preservation Resource Center, 744 Rebecca Ave.
* In the Hill District, the meeting is at 5 p.m. Tue., April 5, at the Blakey Program Center, 1908 Wylie Ave.
* And the Southern Hilltops meetings is at 6:30 p.m. Tue., April 19, at UrbanKind, 827 E. Warrington Ave., in Allentown.
For the full call for artists, and additional info, see
here
.
Artists will be selected by the participating community-based organizations through an RFQ process facilitated by Neighborhood Allies and the Office of Public Art.
The deadline to apply is May 2.