After two-and-half-years,
Cindy Lisica
's gallery in Lawrenceville begins the process of closing up shop with a
reception
for its 16th and final show.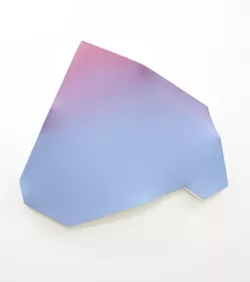 FTW
is a group show including artists from the Pittsburgh area, Houston and Los Angeles and overseas.
Lisica had recently relocated to Houston, where she has opened a new gallery, and had been running Revision Space remotely. But with the lease expiring in April, she's ending its run.
In a
statement
posted on Facebook, Lisica says of Revision Space: "We put the [Pittsburgh] gallery and its artists on the international map at art fairs in Houston and Miami, and we collaborated with C.A.V.E. Gallery from Los Angeles and brought artists from coast to coast and from Asia and Europe."
"We have had a wonderful run and are very proud of our many accomplishments and the fantastic reputation we developed for expanding the contemporary art scene in Pittsburgh," she adds.
FTW
(signifying both "For The Win" and "Fare Thee Well") includes work by such noted locals as Paul Bowden, Terry Boyd, Miss Dingo, Haylee Ebersole, Fabrizio Gerbino and Sarika Goulatia. The show also features Jamie Earnest, Masha Fikhman, Zack John Lee, Elizabeth Rudnick and Travis K. Schwab. Artists from outside the region (showing work courtesy of Houston's Anya Tish Gallery and L.A.'s C.A.V.E. Gallery) include Nugent Kos, Felipe Lopez, Amanda Marie, Eduardo Portillo, Jeff Schwarz, SIT, and Barbara Smith.
Tonight's reception takes place 7-9 p.m. An invitation-only early-bird and VIP preview is at 6 p.m. (contact Lisica at 412-728-4916 or cindy@revisionspace.com).
The show can also be viewed from 11 a.m.-4 p.m. daily this Saturday and Sunday.
Revision Space is located at 5262 Butler St.