Experts convene at the museum for a day-long supplement to its intriguing exhibit titled
Captured by Indians: Warfare & Assimilation on the 18th Century Frontier
.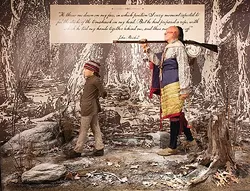 "
Flesh of Our Flesh, Bone of Our Bone
" includes talks, an illustrated lecture and a look at some artifacts from the show, including rare prisoner cords that Native Americans from this region used to bind captives (and which served a ceremonial as well as a practical function).
The presentations begin at 11 a.m. with a talk by Shawnee tribe member Jeremy Turner, who'll discuss the importance and procedures of captivity and adoption among the Northeastern Woodland tribes (who in the 18th century often resorted to captivity to replenish populations lost to warfare and diseases imported from Europe).
Historian R. Scott Stephenson follows with "Halters and Cords: The Decorative Art of Securing Captives in the Eastern Woodlands," an illustrated lecture.
The program also includes Voices of Captivity, a reading and discussion of Indian captivity narratives from the 18th century. Such narratives were among most popular literature of the time.
The day's programming continues until 3:30 p.m. and is included with regular museum admission ($3.50-7, and free for children ages 5 and under).
The Fort Pitt Museum is located at 601 Commonwealth Place, in Point State Park.
For more information, see
here
.