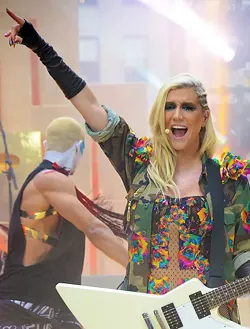 The 2016 Pride in the Street headliners have been announced, and they are a stark contrast from last year's Iggy Azalea debacle. Azalea had used what some consider racist and homophobic language on social media in the past, and protest erupted over the 2015 announcement that she would be headlining Pittsburgh largest LGBT pride event.
While on the surface, the controversy seemed to be about Azalea's selection, the
issues went deeper
. (Azalea dropped out because of the protests and was eventually replaced by Nick Jonas.) Many local LGBT groups criticized the Delta Foundation, Pride's organizers, for operating on behalf of one segment of the community — namely white, gay males — and not including all of the individuals who make up the community.
This year Kesha and African-American rapper Angel Haze were selected. According to a press release from Delta, "Kesha has used her music to bring attention to the bullying and harassment that many LGBT people continue to face." The release also states that Kesha has recently been awarded the Visibility Award from the Human Rights Campaign, which is given to high profile individuals who use their platform to advance and advocate for the LGBT movement.
"Kesha has used her influence and international platform to bring attention to the challenges faced by women and the LGBT community," said Delta president Gary Van Horn in the press release. "We are thrilled to bring her to Pride in the Street this year, and we know that Pittsburgh's LGBT community and allies will be excited to welcome her."
Haze, who identifies as pansexual and agender (having no gender) has also recently been recognized by an LGBT organization when they were nominated for a GLAAD Media Award for their record "Dirty Gold." (GLAAD, which stands for Gay & Lesbian Alliance Against Defamation, is an LGBT rights group focused on the media.)
The group that started the protests against Delta last summer, Roots Pride, is not very impressed with this year's selection. Joy KMT is one of the founders of Roots Pride, and she says that while she has noticed a slight effort on Delta's part to shift their culture, having Kesha and Angel Haze does not solve the issues that were
raised last year
.
KMT says that Roots Pride and others in the community have
yet to see Delta increase their transparency
and focus on the marginalized in the community, like homeless queer youths.
"There are people who care about the marginalized people, and Delta is not investing in those who can help those people," says KMT. She would like to see Delta become more involved in the community and contribute more of its powerful fundraising abilities towards community causes and events, not just "throw parties."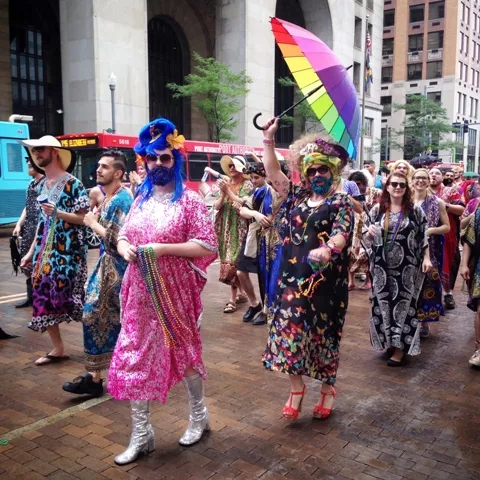 "If you are going to take on the title of largest LGBT organization, you have to serve the community."
Michael David Battle, also a founder of Roots Pride, says the organization is planning to hold an alternative pride festival again this year, but they are still finalizing plans.
He says the festival is not meant to attack Delta, but is to continue to create safe spaces for everyone to celebrate Pride.
"We want to bring a collective effort and all work together," says Battle.
According to Delta's Facebook page, the foundation has raised more than $2,000 in the four hours following the Kesha announcement for the Center for Victims, an East Liberty nonprofit that provides support for trauma victims.
The Delta Foundation did not return calls seeking additional information. We will update if they do.
Editor's note: The original post improperly identified Angel Haze using the singular pronoun "her" and has been updated to use the gender-neutral pronoun "they," since Haze identifies as agender.