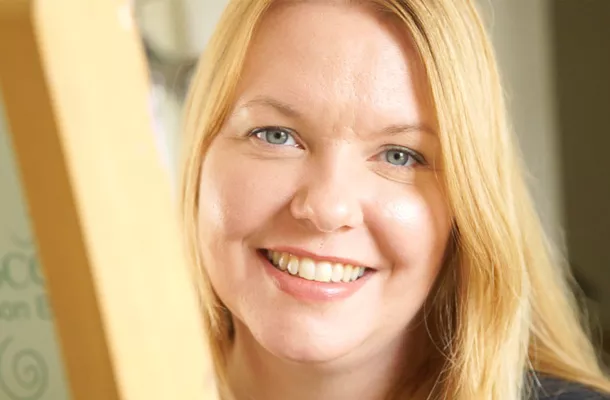 Rhonda Libbey is a local artist from Oakmont who has done work for
Pittsburgh City Paper
for more than 10 years. Rhonda's cover illustration this week depicts a cute wedding scene, but she's best known for her work in the world of science fiction and fantasy. Scroll through her online gallery and you'll see monsters, dragons, skeletons and a great selection of winged creatures.
We caught up with her over email after she finished painting this week's cover illustration.
What's your favorite thing about being an artist in Pittsburgh?
I love that there are so many genuinely nice artists who live here. It's great to be able to collaborate, or just get together and chat about the business of being an artist. (Shout out to my friends in Pittsburgh Society of Illustrators!)
You studied at the Art Institute of Pittsburgh. Has Pittsburgh's art scene changed at all since you first started out?
I did study at AIP in the mid-'90s, and I earned a degree in visual communications with a major in illustration, minor in graphic design. While I did learn classical painting techniques, my experience was not typical for many students who went there because AIP has always been a school that focused on graphic arts. They didn't ever teach much on the things that would benefit anyone looking to get into the fine-art gallery scene.
I feel that the scene has changed since I graduated, but my experience is certainly linked to how things have changed in the fields of illustration and graphic design.

What inspires you?
That is a really hard question to answer. Sometimes it's something in colors paired together, or beauty in the natural world. Sometimes it's an abstract concept, a desire to tell a story or the desire to inspire others.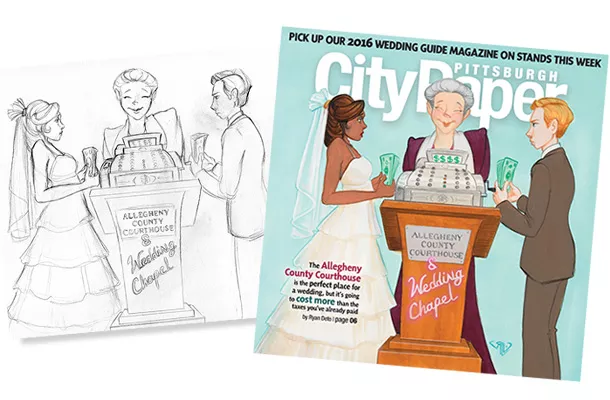 I've seen you post lots of drawings of your ferrets online. I actually have a painting done by a parrot from the National Aviary. Have you ever put paint on your ferrets' feet and put them to work?
I have two little ferret sweethearts, though neither of them have shown any interest in art. However, a few years ago, I had a little fellow named Icarus. Not only was he a classical-music fan, but he had this one stashing place (all ferrets have stashes of stuff they steal) where he organized everything by color and the color groups were all evenly spaced. One day I also saw Icarus scratching at some paper, so I put some colored transfer paper under it so his scratches made colorful marks on the pages underneath.
I think my favorite illustrations you've done for us were the couple of Halloween-themed issues, where you turned local politicians into horror creatures. But you've also done really cute cartoon work, like this week's cover and your 2008 police line-up of video-game characters. Do you enjoy the darker stuff more?
Aww, thanks! I enjoyed creating those covers. Cartooning has been a part of my journey as an artist since I graduated from AIP. Without a doubt, I have always had a dark side. I suppose I am drawn to it more.
Your portfolio is full of mermaids, goblins, dark angels and lots of other fantasy pieces. If you could turn into any of your fantasy paintings, which would you choose?
Hmm, mermaid would be fun. Elves are really rad, too.
Do you have any projects coming up we can look forward to?
Yes! There are two that are really cool; unfortunately, I am under [a non-disclosure agreement]. All I can say is stay tuned. In a few months I can talk about it and post about them all over social media.
Other than the NDA projects, I have been working on a whole different direction for my work. It's more stylized than a lot of my older work, but I really dig it. Everyone can expect to see more of it this year. Examples of the new look can be seen on my PSI page; my actual website really needs an update.
You can see more of Rhonda Libbey's work at pittsburghillustrators.org/accounts/view/RhondaLibbey, www.rhondalibbey.com and by searching "Rhonda Libbey" on Facebook, Twitter and Instagram.

•••••••••••••••••••••••

Lisa Cunningham is Pittsburgh City Paper's art director.