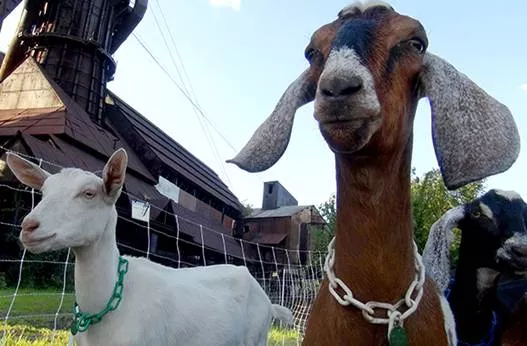 This week Pittsburgh City Council gave preliminary approval to a partnership with Tree Pittsburgh that would utilize goats in city parks.
"A couple years ago there was sort of a demonstration project done out in West Penn Park by Tree Pittsburgh and the goats, and it was what we would consider a very successful project," said Public Works Director Mike Gable. "So it's been a desire the last few years to continue to bring this into the parks. These goats do get into areas that we would not normally be able to get to with the crews or even volunteers."
The goats would be used to control invasive vegetation in city parks and hillsides. The first areas chosen for the program are Highland Park, Emerald View Park in Mount Washington and West Penn Park in Polish Hill.
"The goats will reside in the park and take care of the vegetation and then be moved to other areas of the park," said Gable.
The project is being funded in part with a $10,000 grant from the Allegheny County Conservation District. The goats are being provided by
Steel City Grazers
.
"What happens is these vines and these plants overgrow and they take out the trees, and then we have major stabilization issues," said Danielle Crumrine, executive director of Tree Pittsburgh. "We don't just send the goats in, they eat everything and then we leave. There's a maintenance plan and a planting plan that follows the goats."
Additional support for the project, such as putting up signs and fences to hold the goats will be provided by Tree Pittsburgh, the Mount Washington Development Corporation and Pittsburgh Parks Conservancy.
"If we don't take drastic measures and do something about this now, we're going to be facing a lot of major problems on our hillsides," said Crumrine. "As temperatures get warmer, these invasive plants get worse because they're able to grow faster."
Several other members of council expressed interest in having the goats operate in parks in their districts as well.
"The growth of the vines have been getting thicker and thicker and going up the hill into the communities now and trees have just been dropping because of the weight of the vines," said District 2 Councilor Darlene Harris. "I think I asked a few years ago if they could get some interns for that, but I think the goats could handle it much easier."