The Pennsylvania Democratic Party State Committee failed Saturday to endorse a candidate for the upcoming April Primary election. The candidates include Braddock Mayor John Fetterman, former Pennsylvania Secretary of Environmental Protection Katie McGinty, retired Navy admiral and former U.S. Congressman Joe Sestak, and Findlay Township small-business owner Joe Vodvarka. All are vying for the right to face Republican incumbent Pat Toomey in November.
None of three candidates were able to secure 67 percent of the vote, the number required for endorsement. In an initial ballot, McGinty received the most votes with 163 votes, while Sestak got 137 and Fetterman received 34. Vodvarka did not receive any votes, and outside of participating in the debate on March 5, has not held any public events during his campaign.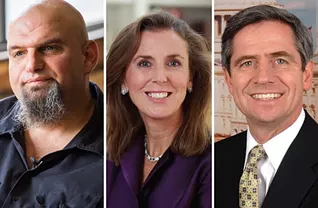 On the final ballot, McGinty beat Sestak 173 to 149, but again failed to reach the 215 votes necessary for a super-majority and the party's endorsement. As a result, the democratic party will hold an open primary.
And while the word "open" tends excite people in terms of a national election (media pundits are salivating at the prospect of an open Republican National Convention where Trump, Cruz and the likes battle it out for the presidential nomination), there appears to be little enthusiasm for Pa.'s U.S. Senate race. The most recent poll shows 56 percent of voters remain undecided.
This is further disheartening for proponents of civic engagement considering that G. Terry Madonna, a professor and director of the Center for Politics and Public Affairs at Franklin & Marshall College, calls this race one of the top five U.S. Senate elections in the country. Madonna says this race is crucial to the Democrats' chances of recapturing the Senate from the Republicans.
But the race could just be getting started.
Toomey has been broadcasting ads
on TV since June 2015, including a few web-only attack ads against McGinty and Sestak (both McGinty and Sestak have also released online
attacks ads against Toomey
).
Among the Democratic nominees,
Fetterman
threw is hat into the TV ring last fall. He premiered his
"Braddock" TV ad
during the first Democratic presidential debate on Oct. 13 to Western Pa. markets and has had other ads broadcast since then in Pittsburgh and Philadelphia. McGinty will release her first over-the-air ad today in the Pittsburgh and Philadelphia regions, according to the Associated Press.
Sestak
has only released online video ads up to this point.
To catch up on the Senate race, see
City Paper
's coverage of the candidates' some-what opposing views on
affordable housing
and
fracking
.
Also, the Democratic race for the state attorney general did not receive an endorsement either. Allegheny County District Attorney Stephen Zappala came close with 209 votes (63 percent) to Montgomery County Commissioner Josh Shapiro's 121, but still fell short of the 215 needed for endorsement. Northampton County District Attorney John Morganelli, who is also running for AG, did not seek the party's endorsement. However, the AG candidates have picked up a bevy of other endorsements, which can be seen
here
.
Editor's note: Previous post stated Fetterman had only released ads online, when in fact he has had ads on TV since last fall. And Toomey's attack ads have only been aired on the web, not on TV as previously stated.