Here's what went down in Pittsburgh this week: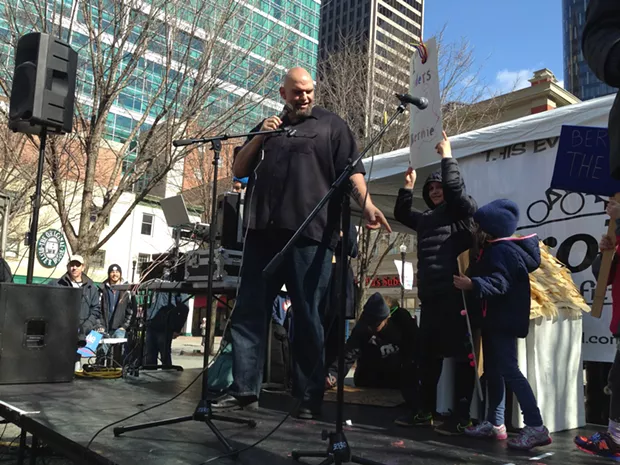 1. Braddock Mayor
and U.S. Senate candidate John Fetterman
rallied Bernie Sanders supporters in Market Square
on Sat., Feb. 27. About 750 people participated in a march from Oakland to Downtown in support of Sanders. Fetterman told the crowd his views aligned with Sanders', especially concerning inequality, which he said is "not just one issue, but every issue." After Super Tuesday, presidential candidate and Vermont Sen. Sanders is lagging behind former Secretary of State Hillary Clinton in delegates; Fetterman is currently polling in last place in the Democratic primary race to face current Pa. Sen. Pat Toomey.
—————————————————
2. Pittsburgh-based
interdisciplinary artist Alisha B. Wormsley
is seeking submissions for her new video magazine Underground
, which is part of the local sci-fi film series
Afronaut(a). The video magazine will include selected films and videos along with brief artist interviews and is set to be released as a DVD in September 2016. The release will be accompanied by a screening in conjunction with the Greater Pittsburgh Art Council.
—————————————————
3. Lawrenceville
residents and environmental activists
delivered a petition with nearly 1,000 signatures to Wednesday's meeting of the Allegheny County Board of Health
The residents and activists are demanding the Health Department tighten regulations on a steel foundry in the neighborhood. "M&T places the health burden on all residents," Lawrenceville resident and canvasser Maggie Brooks said. "We need a permit that protects our health."
—————————————————
4. An independent study
released late last month
found that fracking well sites are too close to schools, residents and other hubs of human activity
. Published in the journal
Environmental Health Perspectives
, the study's five authors reviewed geography, current setback regulations, air-pollution studies and other factors in the Marcellus shale formation, as well as two other shale plays across the nation. "Current setbacks may assume air pollutants are all produced only on the well pad, however, transportation of hazardous materials and diesel pollutants from vehicles related to well pad operations can occur at distances far away from the well pad," said Michael McCawley, of West Virginia University and co-author of the study. Pennsylvania's current setbacks from well pads to any structure — whether school or not — is 500 feet.
—————————————————
On our podcast: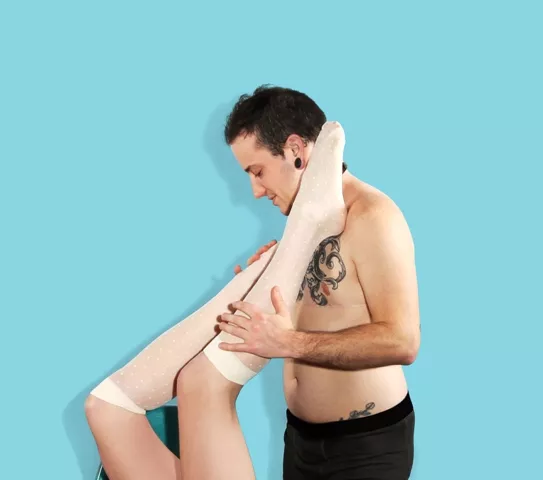 On
this week's podcast
, host Alex Gordon talks to sex-advice columnist and LGTBQ advocate Dan Savage about the 11th annual HUMP! Film Festival, which makes a stop at the Ace Hotel in East Liberty this weekend. Booze columnist Celine Roberts heads straight for the Gose, Baltic Porter and California Common at this year's Pittsburgh Winter Beerfest. And, our
City Paper
panel discusses arts and Pittsburgh's graffiti scene, as well as our upcoming coverage of Pittsburgh Pirates spring training.
On our political blogs:
We sat down with Pennsylvania Secretary of State Pedro Cortes this week
for a Q&A
during his visit to Pittsburgh to talk about online voter registration. Pennsylvania launched online voter registration last summer, and last week user numbers reached more than 100,000. March 28 is the deadline to register to vote in the upcoming April 26 primary.
El Secretario de Estado Pedro Cortes insta a los ciudadanos elegibles a registrarse para votar
Meanwhile, a vote to approve a sewer system for a senior-living facility along Brownsville Road, in the Carrick-Brentwood area,
raised questions about affordability and union contracts
.

On our music blog: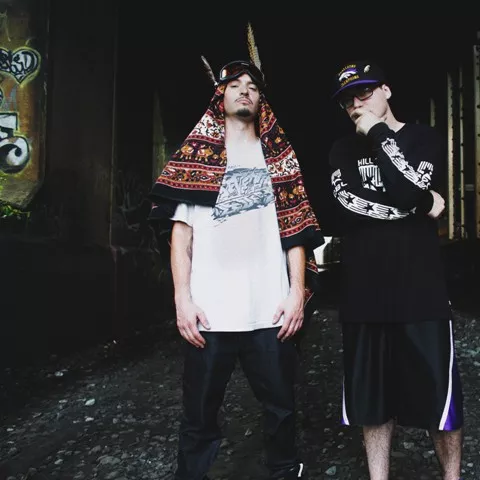 This week our
MP3 Monday
comes from MC Moemaw Naedon and producer Billy Hoyle. On March 12 they'll release a new nine-track record called
Travel Through.
Travel Through by MC Moemaw Naedon and producer Billy Hoyle
Each week on our
FFW music blog
, we create a Spotify playlist containing tracks from artists mentioned in the current music section. Listen below!

From the pages of our print edition: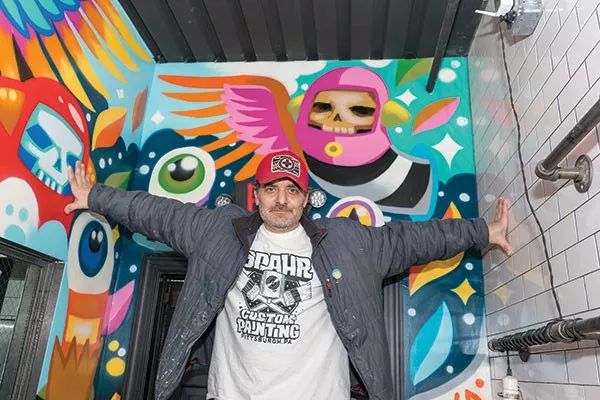 This week, staff writer Rebecca Nuttall
covered the issue of graffiti in Pittsburgh
. Last month
Carnegie Mellon University student Max Gonzales (known on the street as Gem) was arrested after rising to the top of the Pittsburgh Bureau of Police Graffiti Squad's most-wanted list. Gonzalez is being charged with $114,000 worth of damage. Some artists argue that the key to reducing illegal street art isn't the Graffiti Squad but rather more legal spaces for artists.



This week in City Paper history: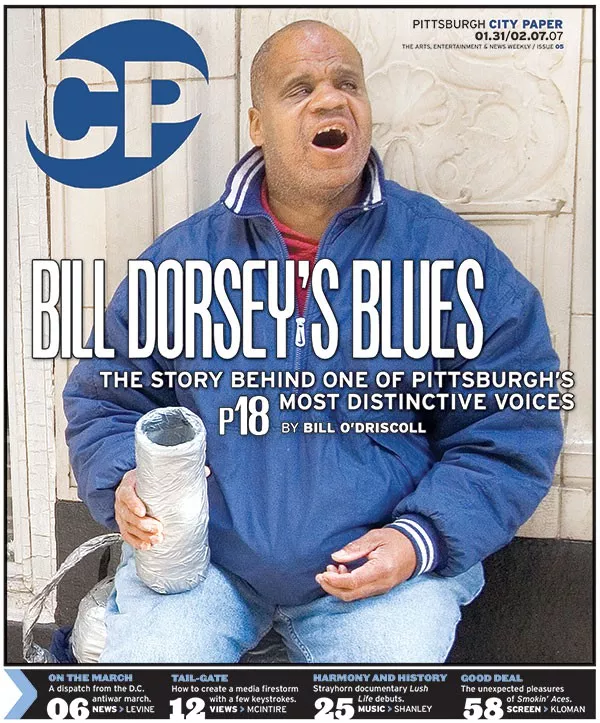 City Paper
has run so many stories about so many people over the years that it would be impossible to recall them all.
But if you're an avid reader you undoubtedly remember "Bill Dorsey's Blues."
The nearly 7,000-word 2007 story is without question one of the most popular in
City Paper
history — and Dorsey himself is still out there singing.