We slog through the Twitter streams of the 2016 Presidential candidates and give you a weekly roundup of the more entertaining ones.
The Dumpster fire that is the GOP primary contest continued unabated, with insults, vulgar allusions, accusations, untimely disavowals and the surprise re-appearance of Mitt Romney. Refusing to break stride in his loopy campaign, Dr. Ben Carson officially dropped out of Thursday's debate (where, with all the body talk, an on-stage doctor might have been helpful), but
not
his campaign.
This week in meaningless endorsements:
Trump
got the rich guy who owns NASCAR and
John Kasich
got "Pam, from
The Office
," who is not a real person.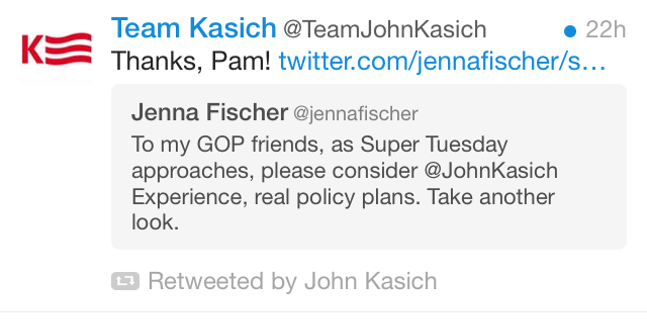 Mitt Romney
strikes me as the kind of guy who would never wear a garishly branded ball cap in the first place, but: point taken.
Why drop out? Every ocean begins with a single drop.
Clinton
weighed in on Thursday's Detroit debate.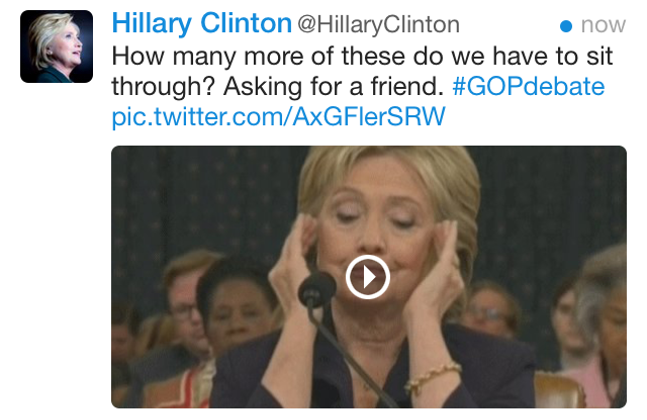 Marco Rubio
tweeted out this new merchandise during the debate, but minutes later, vowed to support Trump if Trump was the eventual Republican nominee. "Never" is the new "whatever."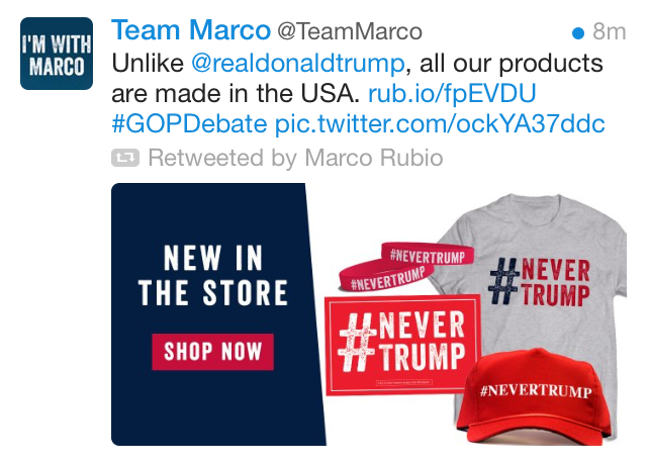 New at the
Ted Cruz
store: Be
this
yogi.
From
Mad
magazine ... no wait, the Cruz campaign:
We got one!
Lastly, I gotta give it up to former candidate and former Texas Gov.
Rick Perry
, who pretty much said, "Eff this primary shit," and took off for Hogsmeade at The Wizarding World of Harry Potter. Things gotta be less crazy at the Goblin Bank.