Pat Lewis is a local freelance cartoonist and illustrator from the North Side who I've had the pleasure of working with on
Pittsburgh City Paper
cover illustrations for the past five years. He's one of my favorite artists to work with: He takes direction well, and his cartoons always make readers laugh. (Remember his adorable cartoon pigeon on our cover last year for the arts festival?) The fact that he's naturally funny doesn't hurt. A recent tweet of his: "I don't get sentimental Calvin & Hobbes mashups/tributes. Comic strip Calvin was a sweet kid like 15% of the time, 85% an unrepentant jerk."
In addition to
City Paper
, Pat's art has appeared in children's books and magazines, and on T-shirts, greeting cards and more. He's also currently president of the Pittsburgh Society of Illustrators, a cat dad and a soon-to-be husband. We caught up with him over email after he finished this week's cover illustration.
What's your favorite thing about being an artist in Pittsburgh?
The people, the size and the cost of living. I always say that Pittsburgh is a great town for young creative people to get started in. Whatever crazy idea you have, you can probably find somebody here to help you make that idea a reality. Or barring that, someone who knows somebody who can help you.
Did you always know you wanted to be a cartoonist when you grew up?
Growing up, I always thought I would draw a syndicated comic strip, so I majored in English to focus on the writing aspect of that. By the time I graduated, print newspapers were dying off at an alarming rate and that career path was looking less and less appealing to me. I never stopped drawing, though, and eventually learned how to make it as a freelance illustrator, which is a good thing, because it's definitely the right fit for me.
You have a very fun, classic style, which I've always thought would have fit in well with the great Hanna-Barbera cartoonists. I know you're also big into flea markets and thrift shops. Have you ever thought you might have been born in the wrong time?
Kind of! On the other hand, I also like Photoshop and email and Twitter and, you know, modern medicine and civil rights and stuff.
One of my favorite things about your artwork is how great you are at capturing people's facial expressions. Do you constantly make funny faces in the mirror while you work?
I don't typically need to look in the mirror to know how an expression should look, but I find that I make funny faces anyway, as a natural reflex when I'm drawing them. It's always a little embarrassing to catch myself doing this while sketching in a coffee shop!
What's your work space look like?
A bit more cluttered than I'd like, but all the good stuff is there. Besides my tools and art supplies, I like to surround myself with stuff that keeps me inspired. Just looking around, I can see my collection of vintage Little Golden Books, tons of art prints, a Peanuts lunchbox, some toy dinosaurs and, of course, a heated kitty bed with a sleeping cat in it.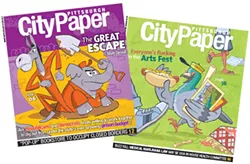 You've been illustrating for City Paper since 2011. Do you have a favorite cover you've done for us?
I have a soft spot in my heart for the first one I ever did. It was about state prison budgets, I believe, and I got to draw an elephant and a donkey tunneling out of prison. I was a little scared because I was fairly new at this, and it wasn't exactly what you asked for (you pictured them bursting through a brick wall). Still, I felt pretty strongly about the idea, and I think it turned out well in the end.
You're big in the children's literary art scene and have illustrated children's books and done work for Highlights magazine. Yet, your portfolio also includes a cover illustration for the Sex Issue of Seven Days (Vermont's version of City Paper) which included a cartoon of furries having sex! Do you feel weird doing adult stuff after all your work with kid-friendly pieces?
A lot of artists who are mainly known for their children's illustration — from Dr. Seuss to Shel Silverstein — also did great work for adults too. It's fun to draw a wide variety of stuff, as long as everything is appropriate for the intended audience. There's a reason I don't bring that Sex Issue piece along when I give presentations to grade-school kids, but I'm glad I had the chance to do it.

What's up next for you?
Personally or professionally? I'm getting married in the spring, so that's taking up a lot of energy right now. Once that's over, I'll have more free time to pursue personal things, like doing some more screenprinting and comics and stuff. I've also got a few exciting possible projects lined up that may get underway over the summer, but none of that is definite just yet, so I can't really talk about it.
Is there anything you're dying to get hired to draw?
Gorillas, maybe? Yeah, let's say gorillas. Gorillas fighting bug-eyed aliens, maybe. Fingers crossed!
You can see more of Pat Lewis' work at www.patnlewis.com and can follow him on twitter at @patlewis. Please, someone hire him to draw a gorilla.

Lisa Cunningham is the art director at
City Paper
.