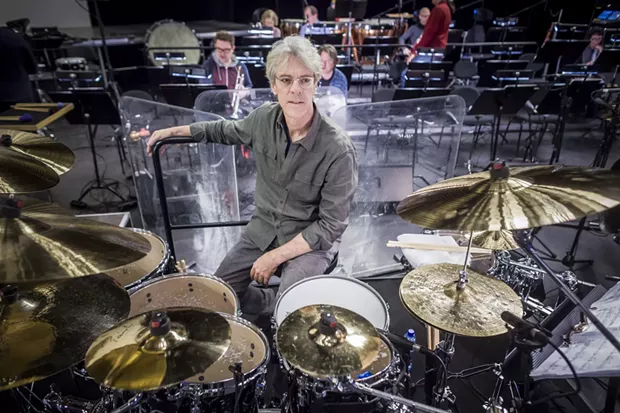 Most of us are backbeat babies; we need that
rhythm section
to tell us where the music's going. I wonder whether the absence of a backbeat is one reason many contemporary music audiences have a hard time connecting to classical.
The proposition was tested this past weekend with
The Tyrant's Crush
— the first world premiere concerto I can recall in these parts that was written by the former drummer of a one-time World's Biggest Rock Band.
It was the first time I've seen an audience member at Heinz Hall wearing a Black Sabbath hoodie. And it was also the first PSO show I've seen with an all-percussion frontline: timpani, celesta and more and, behind the drum kit, Stewart Copeland of The Police, who doubled as composer. (Here's Jordan Weeks'
interview with Copeland
for
CP
.)
I found the half-hour, three-movement work rhythmically inventive and engaging all the way through. Backed by a full orchestra, Copeland and the four percussionists were a lot of fun to watch, and there was a notable triangle solo.
Copeland, dressed all in black, was an appropriately charismatic presence: Upon taking his seat behind the drums, for instance, he windmilled his arms theatrically; after the first movement ended, he mopped his brow and drew a laugh by exclaiming "Hot work!" As this was a world premiere, it seems likely that some of his theatrics expressed nerves: When the show ended, he flung his drumsticks high over his shoulder, and during the concluding ovation salaamed gratefully to the orchestra.
While Copeland did indeed keep a backbeat much of the way through, this was hardly "
Stars on 45 — Hooked on Classics
" — he's too imaginative a player for anything like that, and much of what he was doing was pretty subtle.
Or so
I
thought. Two friends I ran into at after Friday's opening-night show, for instance, were underwhelmed. Both, by the way, have classical backgrounds, but neither resembles a classical snob, and one is in a rock band.
The first friend simply compared "Tyrant's Crush" rather unfavorably on terms of sheer musical effectiveness to the other piece the PSO played on this weekend's program, Shostakovich's Symphony No. 1 in F minor (a gorgeous piece, for sure). The latter pal, however, seemed to object most to having symphonic music with a backbeat, preferring the experience of finding the rhythm for himself.
Overall, though, the big Heinz Hall crowd, which gave the work an enthusiastic ovation, seemed quite pleased. If one of the PSO's goals in commissioning this work was to broaden its aging audience, Copeland's
Tyrant's Crush
couldn't have hurt.