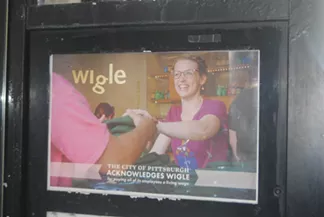 In the year since Pittsburgh City Council passed legislation to promote local small businesses that raise their minimum wage to $10.10/hr, the city has been working to bring the program to fruition.
Today, Wigle Whiskey, who was among the first to reach out to the city about the opportunity, became the first small business promoted in bus shelters around the city.
"We reached out immediately because it's something that's so aligned with the mission of our business. We were thrilled to see it and wanted to be apart of this," says Meredith Grelli, Wigle co-owner.
Prior to city council passing the legislation, Grelli says many of Wigle's 50 employees were already making well above a living wage, but the wages of others were adjusted to meet the bill's requirement of $10.10/hr. The current federal minimum wage is $7.25/hr.
"We have an absurdly talented staff. We are in an attractive industry and it really attracts smart, talented people so we need to keep those people engaged and feeling like they can support themselves. There's just no way you feel right about paying them the federal minimum wage," says Grelli. "We're in a business that's not kind to startups, yet we are making this commitment. So we do believe although it's not always easy, it is possible for businesses to make this commitment."
According to District 5 Councilor Corey O'Connor, who sponsored the legislation, promotional advertising for Wigle will go up in more than 30 shelters managed by Lamar advertising. The new signs read: "The City of Pittsburgh acknowledges Wigle for paying all of it's employees a living wage."
"It promotes the importance of raising minimum wages and I think it promotes how cities should help their local businesses. I think that's something unique to the city of Pittsburgh," says O'Connor. "It promotes the employees. It also helps to put money back into our local economy. It also helps retain employees in the city of Pittsburgh."
Immediately after the bill was passed by city council, four or five businesses reached out to the city to get involved, but O'Connor says it took a little time to get the initiative up and running.
"We had to work with their designers. We had to work with Lamar. So it wasn't just a snap of the fingers," says O'Connor. "We got over the hurdle of doing one and now we know how simple it can be. Now we're going to do a couple more."
O'Connor says Wigle's advertising will remain up for a minimum of six months, but could stay up as long as two years. He also says there are 600 possible locations for advertising.