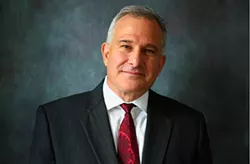 Yesterday, the United Steelworkers announced their endorsement for Allegheny County District Attorney Stephen Zappala in the upcoming April primary election for Pennsylvania Attorney General.
"Many have lost confidence in this important office and Mr. Zappala is the best positioned to re-instill that lost faith," said USW District 10 Director Bob McAuliffe. "Stephen has shown himself over the years to be a person of high ethics and standards, and the USW is proud to endorse him."
"USW members across the state will be canvassing, calling and working very hard to make sure Mr. Zappala wins this important race, and to see him sworn in as our next Attorney General."
This isn't the first labor endorsement for Zappala.
Last week
the Regional Building Trades Council announced their support for him, and he's also received campaign contributions from from the Western Laborers' Political Action Fund, International Union of Operating Engineers Local 66, Steamfitters Local 449, International Brotherhood of Electrical Workers Local 5, the Carpenters Legislative Program of Greater Pennsylvania and the Plumbers Local Union.
"I am deeply grateful to the working men and women of the United Steelworkers for their confidence and support," Zappala said in a statement. "Steelworkers know that in my office everyone is treated fairly no matter how much they make, what they look like or who they love."
In other attorney general election news this week, Montgomery County Commission Chairman Josh Shapiro was endorsed by Allegheny County Coroner Cyril Wecht, state Representative Dan Frankel, and Pittsburgh City Councilor Dan Gilman, according to a release from Shaprio's campaign.
"Josh Shapiro has a record of reform and a history of standing up for progressive Democratic values," Wecht said in a statement. "He's taken on Wall Street money managers to protect taxpayers and ran Pennsylvania's third-largest county, where he's cleaned up a fiscal mess and worked to expand civil rights. I'm proud to be for him,
because he'll always be for hardworking Pennsylvanians."
"Josh Shapiro will be an Attorney General who stands up for progressive values to protect the environment, be a watchdog for consumers, and he'll never be afraid to stand up to big, powerful interests on behalf of working Pennsylvanians," said Frankel.
"Throughout his life, Josh Shapiro has been a reformer who helped pass the strongest ethics law in generations," said Gilman. "Josh will be an Attorney General who will hold public officials to the highest level of integrity while reforming and modernizing the office so it's an advocate for people."
Shapiro has also been endorsed by former elected officials like former Assistant United States Attorney
Jack Stollsteimer
, who was also running for attorney general before he dropped out of the race last month, and former Pennsylvania Governor Ed Rendell, who
endorsed Shapiro
last week.
Zappala and Shapiro are set to face Northampton District Attorney John Morganelli and incumbent Pa. Attorney General Kathleen Kane in the April 26 primary.