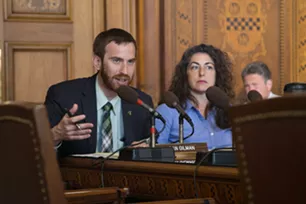 Yesterday, Pittsburgh City Council gave preliminary approval to a measure that would change the city's property-assessment appeals process. The goal of the measure, according to its sponsor, District 8 Councilor Daniel Gilman, is to ensure that residents are being taxed more fairly.
"Right now, I've heard regularly from people — oftentimes people new to the city, young people buying their first home — that they buy a house in the city, they're excited to buy their first home, and the first thing they get in the mail is a letter from the city of Pittsburgh saying 'We're appealing your assessment', which is not the kind of welcome letter you'd like to receive," Gilman said at the Feb. 10 meeting. "So this legislation would say, we will not appeal your assessment."
Under the new resolution, the city would not appeal property assessments within two years of the property's purchase. Additionally, assessments would not be appealed more than once in a three-year period.
"The second issue I've heard consistently is people will get appealed year after year after year," Gilman said. "A, it's just a terrible nuisance and not a nice way to treat our residents, and B, it makes it very difficult to plan your year out financially when that is hanging over your head."
The resolution was approved by a vote of six, with four abstentions. Among the abstentions was District 6 Councilor Daniel Lavelle.
"I do not believe we should automatically appeal assessments down. That's actually not our job; it's the individual property owner's job. It's our job to actually bring in revenue, not to give away revenue," said Lavelle. "Furthermore, there are many instances where if you automatically appeal my assessment down, you could potentially be hurting me as the property owner. If I have a mortgage on that property and you're attempting to appeal down, you may be affecting the value of that actual mortgage, if you're appealing for a lower value than what my mortgage is."
The new resolution would design a system to select properties to appeal "based on comparable values rather than sales alone." It would also "appeal values downward for properties where the assessment is 50 percent greater than their actual market value."
Lavelle says he has been in conversations with Gilman about the legislation and abstained from the vote "to see where the conversation takes us."
The changes would not impact the reassessment process, which is handled by the county. The Department of Finance is scheduled to revise its assessment policies and procedures by the end of February.