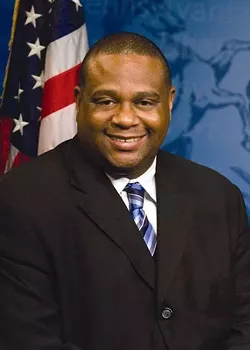 This weekend, Pennsylvania State Rep. Ed Gainey will formally kickoff his re-election campaign with an event in Homewood. Gainey has represented the 24th District since 2013.
In the upcoming primary election, Gainey will face off against Homewood entrepreneur and activist William Anderson. Anderson ran against Gainey in the 2014 primary election and has also run for the District 9 Pittsburgh City Council seat.
The 24th District encompasses Garfield, East Liberty, Lincoln, Lemington, Belmar, Homewood, East Hills, Wilkinsburg, North Point Breeze and parts of Stanton Heights, Friendship and Shadyside.
During his time in the Pa. House of Representatives, Gainey has served on the committees for appropriations, gaming oversight, insurance, transportation, transportation safety and urban affairs.
The Feb. 6 event will take place at the Community Empowerment Association, a nonprofit focused on the African-American community. The event at 7120 Kelly St. will run from 10:00 a.m. to noon.