Givers is band that really needs to be listened to rather than described. The Lafayette, La. outfit recorded its newest LP,
New Kingdom,
in a multitude of locales, from North Carolina to New Orleans and even Eau Claire, Wisconsin, with Justin Vernon of Bon Iver. The band is set to play Hangout Fest and Bonnaroo Music Festival later this year, and will play Cattivo tonight.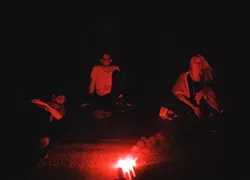 How have the shows been on your short run your doing now? How do the shows feel, how are the crowds?
The shows have been great. The crowds have been great. So far, it's been a great run up the East Coast. We played Toronto last night [Sunday] and that was a raucous, sort of dancey, rock 'r roll kind of show. And that was really fucking cool.
You newest album, New Kingdom, came out last year. Was there anything you were trying to accentuate or focus on for this album? It definitely still sound like the band, but maybe a little different than In Light.
It kind of sound like semantics, but like the whole idea of trying to do something, I can't but think of a Jedi try not kind of vibe. It's really just experimenting and seeing what feels good and just letting sounds shape, as like letting inspiration take you to new places. And you want to go to these new places and create a special thing that is inspired and in the moment and detached from the past and detached from the future and is kind of, of that moment. And the more you can get into that, right there, that special place, the more inspired it's going to sound and the more honest it's going to feel, and the more available it'll be for people to venture there as well. A place that is truly created out of total detachment in a way.
In certain regards, we did want to separate ourselves or just kinda like forget about
In Light
, but to a certain extent, there are certain qualities that this band has and has explored that we kept in the mix, in the process and in the trajectory of all these new songs. But we allowed the direction and where we ended up with all these songs to be entirely different and free of association of anything we've done before. That wasn't ... something we set out to do. But we really let it happen in a natural way. We didn't set up a dry erase board and say "Okay, this is what we did last record, this is what we want to do this record." We just kind of let them happen and kinda made sure that all the songs we were putting on the record fall within this feeling of like "Okay, did we go someplace new? Okay great." That's the new record. That's
New Kingdom
.
You ended up recording or working on the recording process in a bunch of different places, including working with Justin Vernon in his studio in Eau Claire, Wisconsin. What was that experience like, to work with him?
It was really cool. It kind of happened naturally. We opened up for them at Jazz Fest in New Orleans and Justin invited us out there. He's just a really down to Earth kind of guy, who has a really beautiful studio space. It was really cool. It was a really inspiring place to work in. It ended up being a very, kind of natural, inspiring time. It was snowy out in Eau Claire, very cold. It was kind of like "alright, we're definitely not going outside. We're definitely going to be inside working on these songs for a month, which is awesome."
I was looking through your Twitter and Instagram and I saw a photo you posted of David Bowie, with a really heartfelt caption. Obviously he affected a lot of people, but to a band like yours, with such an interesting sound with some many different influences, what did he mean to you and mean to the band?
David Bowie is an inspirational force, in the sense that someone that can have such a craft in the song world and song writing world and make such good songs, but also have such a good aura behind the songs. And such a good world, and you can feel the world behind you song. You can feel certain levels of expression through certain artists like David Bowie, that inform and color the songs beyond even their musical coloring.
David Bowie stand out as this person who, you know, just the idea of him like reaching, to push the art form. He wasn't just standing up there for years just ... wearing the same suit giving us his songs, ya know? He gave us these characters. He gave us this world of trans-mutating energy behind his music, that allowed his music to be, not just this shining thing, but it was this shining thing on this constantly changing foundation and to us, that inspired us as a band from the very beginning. All the bands we had been in before Givers had done certain things that, ya know, allowed us to express ourselves in a certain way and then when we decided to do Givers, we told ourselves that "okay this is gonna be the band that we get to experiment with everything that we haven't go to experiment with yet in all these previous projects."
And some of those things, when we first started Givers, fell in the musical realm of "okay, well we've never been in a band where we have vocalists singing melodic songs that maybe people could learn the lyrics to." We were all in a lot of like improvisational jazz, funk fusion, Afro-beat kind of bands. Where a lot of the bands we were in were instrumental bands. For Givers, it was like a departure to even have vocalists. Like "oh yea, we'll be in a band that has singers, that'll be crazy." I had never sang in a band. I've never really sang lead vocals in a band. David Bowie came into the picture because we're like "we can dress up like crazy people."
The first 10 Givers shows we all wore like the most ridiculous outfits we could. I remember like changing outfits three times during each show. Like these various crazy, shiny, sparkling golden jackets and blouses, for the most part. Just to do it. Just to experiment, to a degree. To do something we'd never done before. Looking at David Bowie to be this guiding light, to be somebody who allowed to be like, "You know what, you can focus on the music." And we rehearsed and rehearsed and rehearsed and go it as tight as we possibly could. But we're also going to take the show to a different level for the people that were there ... We were going to give them as much as we could, musically and visually. David Bowie is somebody who represents that aspect of what is behind the art, behind the music. So in that regard, David Bowie inspired us musically, energetically as a performer, as an artist in a lot of ways.
GIVERS. 7 p.m. Tue., Feb. 2. Cattivo, 146 44th St., Lawrenceville. $13.50-15. 412-687-2157 or www.cattivopgh.com