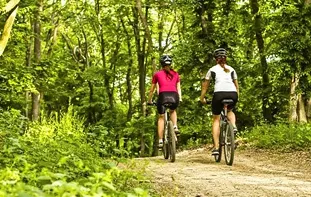 Yesterday Pittsburgh City Council gave preliminary approval to an ordinance amending the Pittsburgh City Code by removing language that says bicycles are confined to roads.
"The current city code confines bicycles to paved road use," cyclist Eryn Hughes said during the public comment period at the start of the meeting. "Despite the inherent confusion about policy the current and actual use of the wooded trails is primarily by mountain bikers who have lovingly stewarded them over 30 years following in the tire tracks of the volunteers before them."
The ordinance which was unanimously supported by council adds language to allow cyclists to ride in "wooded trail" areas that are often used by mountain bikers in city parks.
"This is really a technicality that we're solving," said Councilor Corey O'Connor, chair of the urban recreation committee and sponsor of the legislation. "The old ordinance said if you're on a wooden trail you had to push your bike. So now we're allowing bike riders to bike in our parks and trail systems. It's a very minor technical amendment that we're making just to clarify the ordinance."
Some members made a point of emphasizing that the change to the city code will not allow cyclists to ride in pedestrian-designated areas in city parks.
"I just want to clarify that there are certain things you can do in the park in certain places and you're still not going to be able to ride in a picnic shelter area or places where people have permits and other places that are otherwise identified," said Councilor Theresa Kail-Smith.
Also at the meeting was Eric Boerer, the advocacy director of BikePGH, who said changing the city code would increase Pittsburgh's standing as a bike-friendly city.