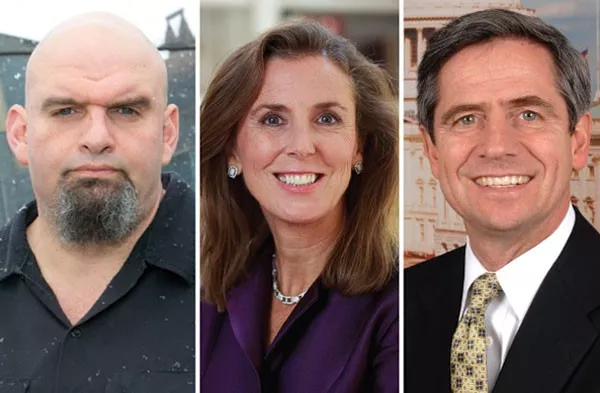 Pennsylvania's upcoming U.S. Senate race has been dubbed one of the most important senate elections in the country by several political experts. One of them, G. Terry Madonna, professor and director of the Center for Politics and Public Affairs at Franklin & Marshall College, says that if the Democrats don't beat out Republican incumbent Sen.
Pat Toomey for this seat, the party will have little chance to take control of the senate come 2017.
The race has already started between the Democratic candidates,
which include
Braddock Mayor John Fetterman, former Pennsylvania environmental secretary Katie McGinty and retired Navy admiral and former U.S. Congressman Joe Sestak. (To learn more about these candidates and hear their thoughts on affordable housing, click
here
.)
And to really get to know these Dems, the 14th Ward Democratic Committee will be hosting a forum with all three candidates on Jan. 31 at 2 p.m. at the Carnegie Mellon University Center. The forum is newly named in honor of former Allegheny County Councilor
Barbara Daly Danko
, who passed away last May after a 10-year battle with cancer.
Sam Hens-Greco, chair of the 14th ward committee, says the event is about giving the voters of the East End the opportunity to meet the candidates, and the candidates discuss some important issues.
"Our goal is to provide Democratic voters with the opportunity to meet and hear all the Democratic Senatorial candidates so they can decide who will be our best candidate and Senator," said Hens-Greco in a press release.
Such topics could include: immigration, mass incarceration, criminal justice reform, national security, foreign policy and climate change, according to Hens-Greco.
The forum starts at 2 p.m. on on Jan. 31 on the CMU campus (doors open at 1 p.m.), and it is free and open to the public. The forum is also being live streamed by CMU and can be view at
www.heinz.cmu.edu/live-event/index.aspx
.