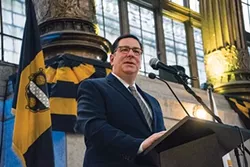 Yesterday, Pittsburgh Mayor Bill Peduto gave a "State of the City" presentation to a packed room on the 20th floor of the University of Pittsburgh's Cathedral of Learning, plus two overflow rooms. The event was part of the Pitt School of Social Work's Center on Race and Social problems speaker series.
"We're in the top of every list when it comes to quality of life, the ability to create jobs," said Peduto. "But we're also at the point where we're dividing back into two Pittsburghs, where the disparity between those that have access to this new economy and those who don't is as great as the mill workers in the 1920s. And that's really where the city's challenge will be."
The majority of Peduto's remarks centered around the issue of equality and the
tale of two cities
many have begun to identify in Pittsburgh. The topic is one at the core of the Center on Race and Social Problem's mission.
"Change is happening very quickly," said Peduto. "And after 50 years of not knowing anything except how to manage decline
,
we are now going to be challenged about how to manage growth because not all growth is good. It's like cholesterol, there's good growth and there's bad growth and if we simply go by a single bottom line of how much money will it bring in, how many jobs will it create and we ignore the environmental impacts or the impacts to people then we'll just have made the mistakes of earlier eras."
In particular, on the subject of affordable housing, Peduto elaborated on plans he discussed during an
interview
with
City Paper
two weeks ago. He talked about a car ride he took with President Barack Obama where he pitched an idea to use federal dollars for housing vouchers to increase low-income home ownership.
"I said, 'We have a problem in the city of Pittsburgh. I've got 7,000 people right now who qualify for vouchers for affordable housing and I have no where to put them. I have 13,000 blighted properties, vacant lots and abandoned properties that I own and I have no program to wed them,'" said Peduto.
Peduto also took time to address comments, including some from the audience, about the mayor's contributions to gentrification in East Liberty, a neighborhood where many say there is an
affordable housing crisis
.
"What knocks me down is the people who just say 'you destroyed East Liberty, you gentrified East Liberty, there's no affordable housing in East Liberty, people are leaving East Liberty like never before,'" said Peduto. "There have been developers that have talked about tearing down a church to build a Starbucks. There have been all these different proposals that we are trying to hold the gate on and when people say 'you destroyed East Liberty', it doesn't help the dialogue."