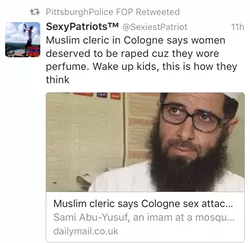 Earlier today a Twitter account titled Pittsburgh Police FOP with the handle
@foplodge1pgh
retweeted two Islamaphobic tweets on their page.
The first tweet, originally posted by a Twitter user known as @sexiestpatriot, read "Muslim cleric in Cologne says women deserved to be raped cuz they wore perfume. Wake up kids, this is how they think." The story, reported mainly by
conservative news sites
, is based on a Russian TV report from REN TV, which has been criticized for spreading
Russian government propaganda
.
The second retweet from @icecoldagent accompanies a photo reading "These are 'not' actors! These are 'not' Christians! These are 'not' your brothers. These are your 'new neighbors'"
City Paper
has been unable to confirm that the account is run by the Pittsburgh Fraternal Order of Police Lodge No. 1. A call to Pittsburgh FOP President Howard McQuillan was not returned.
However, the posts have since been taken down and a post on the account after 4p.m. says, "We were contacted about a re-tweet that was rather offensive. After reviewing our log, I can understand the concern and apologize for the [m]iscommunication and will be more cautious of what we are re-tweeting in the future."
The original tweets from the account were posted in the Pittsburgh section of the forum
reddit
.