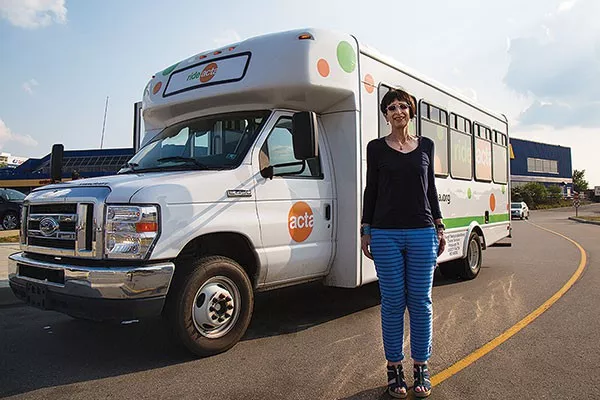 Ride ACTA (Airport Corridor Transportation Association), a micro-public-transit agency that serves Allegheny County's airport corridor, is still micro, but it's growing at a significant rate. In 2015, the agency that provides shuttle rides around Robinson, Findlay and Moon, grew more than 45 percent since the prior year and served about 89,000 rides.
The shuttle service mostly transports low-income employees who work in and around the Robinson Town Centre, since bus routes and sidewalks are limited in the area.
City Paper
wrote about Ride ACTA and other micro-transit agencies and whether they should be held to the same standards as the Port Authority in a fall feature, seen
here
.
Yesterday, Ride ACTA received a commendation at the county council meeting. Councilmember Michael Finnerty, who represents Robinson, thanked Ride ACTA for their continued transportation services.
"You really move a lot of people around and get people to work and school," said Finnerty at the meeting. "We thank you."
Lynn Manion, director of Ride ACTA, said the increase in ridership was partly due to support from the state and the county. A "super stop" which opened at the Robinson IKEA in summer 2014, was a combined PennDOT and county project. Manion says this stop has helped ease connections between Port Authority buses and Ride ACTA shuttles.
And Manion says Ride ACTA has goals to expand service options at the super stop, too. Manion says she has reached out to ZipCar, a car-sharing service, and hopes to put a car or two near the super stop that people could rent on an hourly rate. She says this would give people more options to travel around the airport corridor, without owning their own car.
Manion also hopes ride-sharing company Uber might have interest in working with Ride ACTA.