Jeff Brunner from Hey Beast Studio is a local artist from Brighton Heights whose adorable paintings of animals, like the penguin he drew for our Winter Guide cover, are popping up all over town.
I first took notice of Brunner's work a few years ago at Fun-A-Day Pittsburgh, a group project where local folks create one piece of art every day in January and then exhibit them together in an art show. Since then, his output has continued growing — from a stint as an emerging artist at the Three Rivers Arts Festival in 2014, to contributing artwork for Handmade Arcade's coloring book this last December.
I was psyched when he agreed to do this week's cover illustration and couldn't be happier with his finished painting. Brunner was also kind enough to answer a few questions.
What's the best thing about being an artist in Pittsburgh?
I find that if you're nice and you work hard and do what you say you're going to do, people are receptive and encouraging and kind. This lets you get a lot done. Also, there's a ton of art stuff going on all of the time in the greater Pittsburgh area. You can really pick and choose. Last weekend I went to The Frick to check out the Chris Antemann porcelain exhibit. Tonight, I'm going to swing by Bunker Projects on Penn to have an object photographed by Kija Lucas for her "Objects to Remember You By: An Index of Sentiment" project. For a city this size, we're quite fortunate.
You illustrate a ton of animals. Do you have a favorite?
This is a tough one. I can't pick just one. My favorite animals to draw are elephants (such great shapes and really beautiful creatures), tigers (stripes!) and house cats (completely versatile when it comes to me imposing colors, patterns and personalities).
A lot of folks who illustrate covers for us are digital artists. You painted this one. Is that always your preferred medium?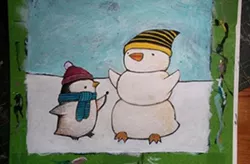 Traditional media works best for me. Paint, colored pencil, wax pastels, regular old drawing pencils — that's what I'm most comfortable using. I like the act of holding these tools, making marks and making a mess. I do use Photoshop for some stuff, but that's rare. I use a computer all day at my library job, so it's nice to step away from the glowing screen when I get home in the studio.
Did you go to school for art or are you self-taught?
My undergraduate degree is in printmaking, though I have not made a print in quite some time. I hope to change that this year.
You're currently painting a portrait a day for this year's Fun-A-Day project. How's that going?
It's going well! I've got some restrictions in place to make sure I stick with it — each piece is on a 7.5-by-7.5-inch sketchbook page, and I'm limiting my time with each image to 30 minutes. I hope to continue the project on through 2016 and make an image a day with each month focusing on a different concept. January's focus is work. I'm thinking February will be hands because I stink at drawing hands.

Do you have any other upcoming projects we should be on the lookout for?
The 30-minute-drawing/painting-a-day project, which I post on social media and will likely turn into a book once it's done. I'm also participating in the John Riegert project, which will be at SPACE later this year. And I'll hopefully be at the Mellon Park festival in September. That's a really fun event. Mostly, I'm working to beef up my illustration and writing portfolio, as my aim is to make picture books.
Is your original Winter Guide cover painting going to be for sale?
Heck, yeah. Who wants it?
You can see more of Brunner's work at www.heybeast.com and can follow him at @heybeast12 on both Twitter and Instagram.


————
Lisa Cunningham is the art director for Pittsburgh City Paper and will be featuring some of the artists she works with this year. If you're a local artist and interested in reaching out, send samples to lcunning@pghcitypaper.com.