Here's what went down in the Steel City:



1. The Port Authority
of Allegheny County
unveiled a proposal that would eliminate fare zones
. Regardless of where riders travel, all fares would cost $2.50 when using a ConnectCard, the authority's electronic-fare system (or $2.75 for cash fares). According to PAT's stats, a fourth of customers would save $1.75 per ride. The proposal would also
benefit riders with disabilities
by offering reduced weekly and monthly passes. The changes, if approved, would go into effect on Jan. 1, 2017. The plan was brought before the PAT board on Jan. 13.
————————————————-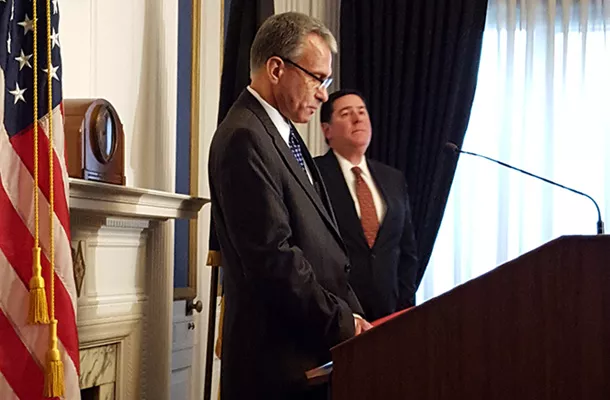 2. Mayor Bill Peduto
named Wendell Hissrich, a 25-year veteran of the Federal Bureau of Investigation, as the new acting public-safety director
. The Pittsburgh native was selected last year through a Talent City search to replace former Public Safety Director Stephen Bucar, who left Pittsburgh in September to serve as deputy commissioner of staff with the Pennsylvania State Police. "Today we take a new step, a new direction in Pittsburgh public safety," Peduto said. City Council still needs to approve Hissrich's appointment.
————————————————-
3. Brian Fallon
, of The Gaslight Anthem, stopped in town this week to perform work from his new solo album
Painkillers
.
The Gaslight Anthem announced a hiatus last year. Before he arrived in Pittsburgh for his Altar Bar show,
City Paper caught up with him for a Q&A
.
————————————————-
4. Jessica Wolfe
, a home-care social worker with Allegheny Health Network, announced
plans to run for the District 19 seat in the Pennsylvania House of Representatives
. In the upcoming April 28 primary election, Wolfe will presumably face incumbent representative Jake Wheatley, who has served the district since 2003. Wheatley hasn't yet formally announced his reelection bid. District 19 includes the Hill District, North Side, South Side, Allentown, Hazelwood, Downtown, Knoxville, Beltzhoover, Manchester, Arlington, Arlington Heights and, North, South and West Oakland.
————————————————-

5. "Comedy Confluence,"
a locally produced documentary on the burgeoning Pittsburgh comedy scene,
debuted this week on WQED-TV
. The performers profiled include stand-up comic Norlex Belma, a former Carnegie Mellon music major; Frankly Scarlett, an all-woman sketch troupe; improv specialist Dave Hart (who has a day job at the Carnegie Science Center); educator Tessa Karel, who runs the Penny Arcade program for kids; and Knights of the Arcade, a monthly Dungeons & Dragons-themed improv show. The doc is scheduled to re-air on the station and it can also be viewed online.
————————————————-
6. Braddock Mayor
and U.S. Senate candidate
John Fetterman appeared on Comedy Central's The Nightly Show with Larry Wilmore
. During his appearance, he gave a ringing, and official, endorsement of Democratic presidential candidate Bernie Sanders. "I don't think Sanders is radical. I just think he is proposing common-sense things that need to happen in America," said Fetterman.
————————————————-
7. State Sen. Jay Costa
announced his bid for re-election to represent Pennsylvania's 43rd Senate district, on Friday
. Costa has held this position since May 1996, and has acted as the Democratic Senate floor leader since 2010. No other candidates have officially announced a run for the seat. The 43rd Senate district includes the municipalities of Oakmont, Penn Hills, Wilkinsburg, Swissvale, Forest Hills and Homestead, as well as the Pittsburgh neighborhoods of Shadyside, Bloomfield, Homewood, Squirrel Hill, Oakland, Hazelwood, South Side and the Hilltop communities.
————————————————-
8. The Strip District Music Festival
(full disclosure:
CP
is a co-sponsor)
kicks off this Saturday at noon
. Its second iteration will provide a much-expanded program from last year's massive lineup. Last year's show featured 70 performers at 11 venues. This year's incarnation will have 170 artists at 21 venues. In addition to the live bands, there will also be live painting displays and a comedy venue. "The main thing we learned after last year is that this show is about local music and the community over regional and national acts," promoter Josh Bakaitus says. "Last year felt magical because everyone knew each other. It was entirely local and was impactful because of that."
————————————————-
From the pages of our print edition:


The
Pittsburgh Public Market is looking for a new home
after its landlord refused to renew its lease. The Market Council — similar to board of directors — and its staff say they do not know the reason for the lease ending. "We were taken aback" by the news, says market-council member Kit Mueller. But building-owner Nora Coffey says, "They [the Market Council] know exactly what the reason is" and would not elaborate further. Now, general manager Rich Westerfield is tasked with finding a new home for the market's 20-some vendors. "The ideal space is awfully hard to come by," Westerfield says. "Rent has to be low enough for us to be able to pass on [a low rent to tenants] so that we can continue to be an incubator. Once you cross a certain threshold, it doesn't make sense to be in the market." Read the full article and see a slideshow of the current vendors
here
.
Pittsburgh's
third annual Galaxy Ball takes center stage Saturday night at the August Wilson Center
. Ballroom culture is a decades-old, male/female binary-busting tradition birthed by black gay men in 1960s Harlem. This year's theme is voodoo, and a grand prize of $1,000 and a trophy will be awarded in the Butch Queen Vogue Fem category. Galaxy Ball: Voodoo is presented by local nonprofit True T Entertainment, part of Pittsburgh's historic underground ballroom community, in partnership with the Pittsburgh AIDS Task Force (PATF). Admission to the Galaxy Ball is free with on-site HIV testing or the completion of a PATF survey during the pre-ball mixer.