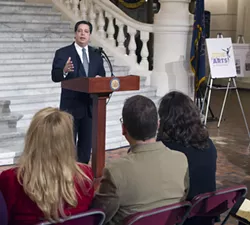 Incumbent state senator Jay Costa has officially announced his campaign to run for re-election of Pennsylvania's 43rd senate district, according to a press release. Costa has held this position since assuming office in May 1996 and has also acted as the Democratic senate floor leader since 2010.
"It is an honor to represent the people of the district and I'm proud that we've been able to resolve issues and help constituents throughout the region. But the work isn't finished," Costa said in the release. "This is a very difficult time with many challenges to overcome, that's why its important to elect public officials who take principled positions and apply common sense."
Costa's priorities for his next term, if elected, include job creation, education funding, property tax relief, adoption of a Marcellus Shale extraction tax, equal pay for equal work, safety net repairs and increasing the minimum wage. He is also a member of the Costa political family, which has deep roots in Allegheny County and includes Jay's brother Paul Costa and their cousin Dom Costa (both Paul and Dom serve in the Pennsylvania House).
No other candidates have officially announced a run for the seat.
The 43rd senate district includes the municipalities of Oakmont, Penn Hills, Wilkinsburg, Swissvale, Forest Hills and Homestead, as well as the Pittsburgh neighborhoods of Shadyside, Bloomfield, Homewood, Squirrel Hill, Oakland, Hazelwood, South Side and the Hilltop communities.