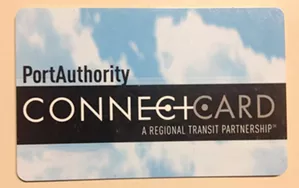 This week, we reported on
Port Authority's proposal to eliminate zones
and charge every rider a $2.50 cashless fare on bus and light-rail rides (riders currently catching buses in the outer suburbs, known as Zone 2, pay a $3.75 fare). According to PAT spokesperson Adam Brandolph, it was the first major fare-change proposal in 35 years that will actually lower fares instead of raising them.
The $3.75 Zone 2 fare is the among the highest public transportation fare in the country, and PAT chair Bob Hurley says this proposal would eliminate that notorious distinction.
Some other interesting tidbits emerged from this proposal at the PAT planning committee meeting on Jan. 13, including a boon for people living with disabilities in the region.
Now, riders with disabilities are eligible for half-fare weekly and monthly passes ($12.50 and $48.75 respectively). Before, people living with disabilities who qualified purchased a special ConnectCard that took off half fares when used, but could only be loaded with cash amounts, not weekly or monthly passes, like regular ConnectCards.
PAT board member John Tague, who is a wheelchair user, thanked the authority for including the half-fare passes as part of the proposal. Tague says that many riders with disabilities currently purchase regular ConnectCards and load them with monthly passes because they ride so often that it ends up being cheaper than loading money on their reduced-fare cards.
"It is a good thing that they are doing this," says Tague. "This has been requested for years, and Port Authority continues to work well with the disability community."
Another new addition to the proposal is the addition of a $7-day pass. The day pass will offer unlimited rides for the calendar day it is used (details like whether you can purchase ahead of time are still being ironed out, according to Brandolph.)
Hurley says the day pass is primarily targeted at visitors, and it simplifies travel for tourists who wish to use PAT buses and light-rail cars. Pittsburgh is currently one of the only large cities in U.S. that does not have a day pass for its public transportation system.