Tomorrow, Carnegie Mellon University's School of Computer Science debuts a new exhibition,
Ivan Sutherland's Trojan Cockroach
, at the
Posner Center
.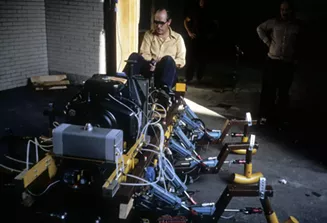 The free exhibition celebrates Sutherland's "Trojan Cockroach," a six-legged hexapod walking machine that the computer scientist developed with six CMU graduate students in the 1980s.
Sponsored by the Posner Center Internship Program, the display will focus on the origin of legged robots and their ability to replicate biological skills. In addition, the exhibit celebrates CMU's history of computer graphics. Sutherland — widely acknowledged as the father of computer graphics — will be in attendance.
A free opening reception takes place at 5 p.m. tomorrow.
The Posner Center is on CMU's campus, 5000 Forbes Ave., in Oakland. For more information, call 908-902-9559 or see
www.scs.cmu.edu/calendar
.