There are countless options for celebrating New Year's. But if you're the sort who enjoys being
near
a big New Year's party but not necessarily
in
it; gravitates toward literature and recorded music; and still digs a little adult beverage on a secular holiday,
Amazing Books & Records
might have you covered.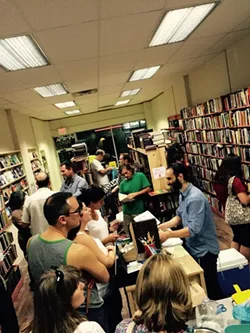 At its Downtown and Squirrel Hill locations, the store hosts its Books & Beer New Year's Bash from 8 p.m. to midnight tomorrow.
Fair warning: The Downtown event will of course sit in the midst of the huge annual
First Night Pittsburgh
festival. But for those who think browsing books and LPs sounds plenty festive, thank you, this is a great alternative (or complement).
Amazing's Downtown location is 929 Liberty Ave. The Squirrel Hill store is at 2030 Murray Ave. (There's no party at the brand-new Oakland outlet.)
At the time of this posting, Books & Beer was not yet listed on Amazing's website, but
CP
has verbally confirmed that it's happening.
Happy New Year.