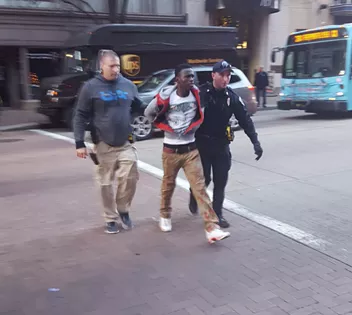 Videos capturing a Pittsburgh Police officer
screaming at a City Paper reporter
and bystanders at the scene of an alleged crime Downtown this past Wednesday have garnered regional media attention. But it is the issues of those arrested and cited that might deserve the most scrutiny.
Two teenage males were arrested — one juvenile and one 19-year-old adult — and three other teenage males were issued criminal citations. Every male arrested is part of a refugee community of East Africans that live in the housing projects in Northview Heights.
But two boys who were apprehended and cited for trespassing, Salat Abdalla, 17, and Abdulkadir Abdi, 16, told
CP
that they had nothing to do with situation inside the Wood Street T station, and never even set foot inside the station. Abdi says they did not even arrive on the scene until around 3:30 p.m., 15 minutes after the first juvenile allegedly hit an escalator emergency-stop button.
The ruckus, at the Wood Street T Station, was initiated by that alleged pressing of an emergency button. A bit of chaos followed, with teenagers allegedly resisting arrest and rocks allegedly being thrown. Port Authority police called for backup and seven Allegheny County Sheriffs came in support, as well as Pittsburgh Police officers and canines.
A crowd formed on the sidewalks surrounding the T station during and after the skirmish, and police officers acted "in an apparent attempt to clear the roadway and to disperse the crowd" as a result, according to a
statement released by Pittsburgh Police
Chief Cameron McLay. One Pittsburgh Police officer screamed at a
City Paper
reporter who was videotaping the scene on his cellphone, telling the reporter and a group to get back while brandishing his baton and telling to them to "quit causing problems," even as other bystanders walked past the officer, closer toward the scene.
That video has been widely covered in local press and circulated on social media. Another
video recently released might garner additional attention
.
Elsewhere on the scene were Salat Abdalla and Abdulkadir Abdi. The two teenagers attend Allderdice High School. Both were apprehended at a bus stop on the opposite side of Liberty Avenue.
CP
witnessed the two boys being cuffed by Port Authority police about 45 minutes after the reported altercation in the T station.
Abdalla says that his sister had called him from Downtown and was crying, and told him to come Downtown. When he arrived Downtown, he could not find her, so he decided to wait at his bus stop with his friend and nephew Adbi.
Eventually, a Port Authority police officer told him he was trespassing and to "get out of there." Abdalla then questioned how he was trespassing.
"But there were many other people standing right there," says Abdalla. "Why couldn't they tell them that they were trespassing?"
Abdalla says that the officer then said, "I am talking to you, and you better get out of here, you are trespassing." Then Abdalla says that when he was about to leave with Abdi, a police officer moved close to Abdi and said, "Get your ass outta here."
"Why would you get up in someone's face like that, like you were about to fight them?" says Abdalla. "[Abdi] is just a teenager."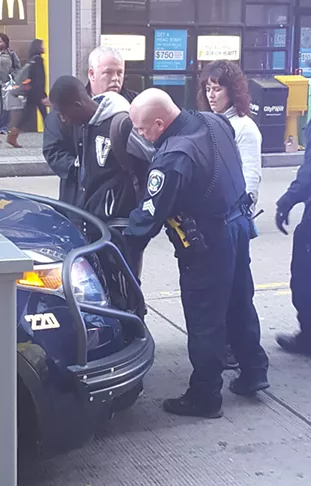 Abdalla says that Abdi then verbally questioned why the officer was acting aggressive toward him. Abdi was then apprehended and pushed up against the wall. Abdalla asked the officer why he was arresting Abdi.
"And then they came at me for no reason and started arresting me too," says Abdalla. "And then when they were taking me to the police car, I told them they were hurting my wrist and then he said, 'I don't give a fuck.'"
Abdalla was not sure why they were being initially told by the officer that they were trespassing because, as he says, they never even tried to get inside the T station.
"We were trying to mind our business and we were trying to get home," says Abdalla. "We always wait for our bus at that stop. Other people were standing at that bus too, but he had to pick on us. I feel like I was arrested just for asking, 'Why are you arresting my nephew?'"
The older sister of the one adult arrested, who goes by Fatuma R., says that she finds the whole situation highly questionable.
"Why did the police only pick these gentlemen, when they are all from Africa?" she asks. "When something happened like this, shouldn't more people be arrested? Were they waiting for these kids?"
Both Abdalla and Abdi are part of a community of East African refugees (the two are specifically Somali Bantu). However, they dress in standard Western clothing, speak fluent English with little to no accent, and have lived in America since they were young children. They are also American citizens.
Other incidents in the immediate area were also captured on video. Siraji Hassan, a close family friend of Abdalla and Adbi, also says that the girl who was pushed to the ground by the officer in the second video shown
here
, is also a teenager and an African refugee. Hassan says she was concerned about her other friend, Mohamed Abdalla, whom
CP
caught on video being thrown the ground and arrested by Port Authority police. Hassan says the girl was taken to the hospital as a result of the altercation and was released on Dec. 17.
Salat Abdalla and Abdi also said they barely know the boy who allegedly hit the escalator stop button, and that he goes to a different high school than they do.
Abdalla did say that while he was waiting for the bus, he and Abdi were talking on the phone to relatives and were sometimes speaking in one of their native languages close enough for police officers to overhear. He also says they were standing next to and talking to some female African students, who wear traditional head scarves.
Fatuma says she is now fearful that the boys were being investigated beforehand, since there were hundreds of people standing on the street, but only African immigrants were arrested. Abdalla estimates that there were 20 to 30 African students in the crowd surrounding the arrests.
"This shows us that one African maybe did a mistake, so does that mean all the Africans have to be punished?" says Fatuma. "We are scared for our family. We are scared the police officers might abuse our kids' lives. We don't trust them anymore."
Hassan says "we ran away from Somalia because of situations like this. Now we are afraid it will happen again."
Aweys Mwaliya, president of Pittsburgh's Somali Bantu Community Association, says that when Somali Bantus first came to Pittsburgh they felt it was a safe place. Mwaliya says that refugees are educated about American culture and customs when they arrive in the U.S., including how the police work.
Mwaliya says that the history of the Bantus in Somalia and the surrounding region is one of discrimination, and that adults who remember living in Africa were afraid of police, because of the how police treated them there.
"It was something I saw with my own eyes; in Kenya, there was no process," says Mwaliya. "When you get into [the police's] hands, you get beaten, and unless you confess to the crime, they don't let go."
He says that there is a difference between the young and the old in the Somali Bantu community. Mwaliya says that those who arrived in U.S. when they were really young cannot compare what happened with police in Kenya and Somalia. But he also notes the growing sense of anxiety inside the community, due to the rising tensions between Muslims in the U.S. and the conflict between African-Americans with the police.
Port Authority spokesperson Adam Brandolph said in an email that the claims by the family members of the arrested teenagers are "completely inaccurate."
"Our police officers do not discriminate," wrote Brandolph in an email. "The outcome of the incident was based entirely on the actions of the individuals involved."
Brandolph says that neither ethnicity nor cultural background was a factor in the arrests.
"They were not issued citations because of their ethnicity, religion, what clothing those associated with them were wearing, or the language they spoke," wrote Brandolph. "They were issued citations because they threw rocks at police officers and failed to disperse when they were instructed to do so."
When
CP
told them the Port Authority's assertion, Abdalla and Abdi both denied ever throwing rocks and were shocked to learn about the accusation. "Where would we even find rocks around there?" Abdalla says. Neither Abdalla and Abdi, however, was cited for rock-throwing, only for trespass.
Brandolph says that Port Authority police have "reviewed the incident at length with our police chief and have found nothing about our officers' handling of the situation to be problematic or contrary to their training."