We slog through the twitter streams of the 2016 Presidential candidates and give you a weekly round-up of the more entertaining ones.
This week's debate didn't seem to shift the field very much — the losers kept losing, the random half-truths and bellicose calls for destruction kept coming, and America kept watching.
Here's a succinct foreign-policy strategy, culled from the debate.
Huckabee made another strained attempt at humor and insulted two cities.

Even Jeb! was wondering about the
Las Vegas Review-Journal
's mystery buyer. (He can relax: It was revealed to be mega-GOP-donor Sheldon Adelson.)
Rand Paul won the public approval of his dad. Which doesn't seem like much, until you recall George Bush Sr.'s silence on Jeb.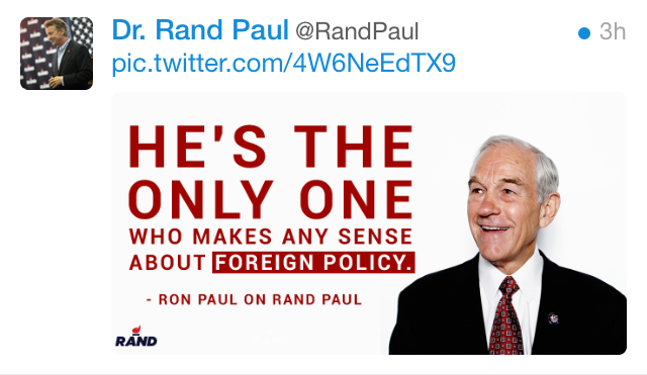 Rand also appears to be the first candidate to acknowledge the upcoming Festivus.
Graham continues his role as Trump Cassandra.
Bernie does some timely pandering to the Christmas-card crowd.

Pataki mansplains Ronda Rousey to Rick Santorum.
I went on Carson's website to check out this LP (alas no soundclips).
And while there I found this
sad dog
. People, do not impose your politics on helpless pets!