Here's what went down in the city of Pittsburgh this week: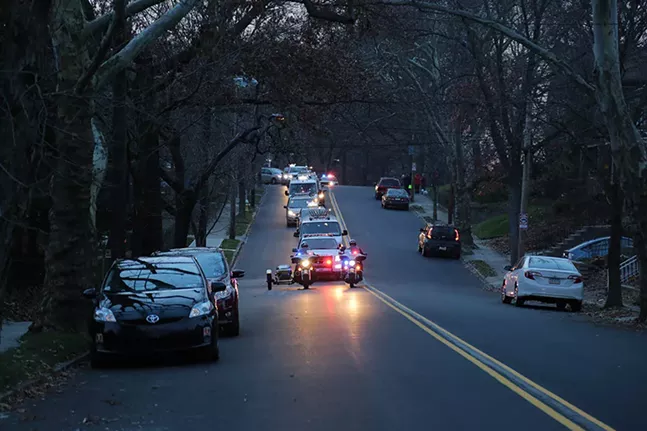 1. The Jewish community
of Pittsburgh marked the beginning of Hanukkah with Chabad of Pittsburgh's annual Menorah Parade, which began at sundown this past Sunday. The parade is in its tenth year, and approximately 75 cars participated in 2015. Organizers say that in the last few years, they've seen an increase in cyclists, with around 25-30 participating in the parade.
City Paper
's Theo Schwarz captured
these images
.
———————————————
2. On Tuesday
the city's Wage Review Committee
released a report
stating that "wages paid to hospital workers are insufficient." The committee recommends that Pittsburgh City Council endorse the demand of hospital workers to be paid at least $15 per hour. The committee was established in October by Pittsburgh City Councilor Ricky Burgess as part of his "City for All" agenda addressing inequality in Pittsburgh.
———————————————
3. On Tuesday
, after 23 years as head of Filmmakers and nine as head of the merged entity,
Charlie Humphrey resigned
. Last Friday, staffers at Pittsburgh Filmmakers/Pittsburgh Center for the Arts presented a petition to the group's board of directors including a statement of no confidence in the group's longtime executive director. The board immediately placed Humphrey on indefinite paid leave. "I had a great time. I loved everything about my job. Now I look forward to the next chapter, and I don't know what that is," he told
CP
by phone this week.
———————————————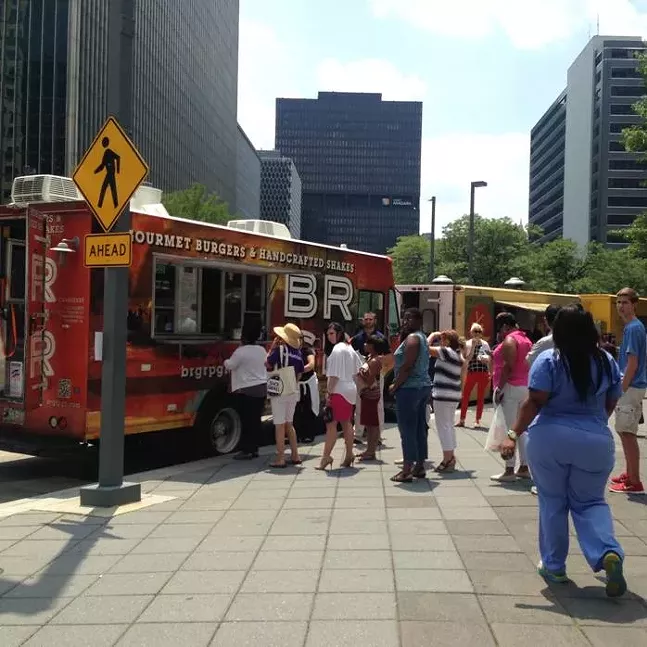 4. This week
people on
both sides of the food-truck-regulation debate testified before Pittsburgh City Council
. Stephanie Morales of Las Chicas, a truck serving Hispanic cuisine, said: "Pittsburgh wants to be competitive, showcasing its city, its achievements, its activities with the world. Yet by the same token, they have a choke-hold on a trend that's about to break loose here." While Jeremy Waldrup of the Pittsburgh Downtown Partnership said: "Simply allowing food trucks to operate in one of our 500 metered spaces throughout downtown without any understanding of streets and sidewalk congestion, and how streets function, is a recipe for chaos."
———————————————
5. News spread
quickly over social media Wednesday that East Liberty's "Lend Me Your Ears," a Sprout Fund mural created by Jordan Monahan in 2004,
was being painted over to make way for new development
.
City Paper
photographer Heather Mull photographed local filmmaker Chris Ivey in front of the mural in 2007 for a feature highlighting his documentary
East of Liberty: A Story of Good Intentions
. Coincidentally, Ivey is featured prominently in
CP
's news feature this week on whether Pittsburgh's new growth includes the African-American community.
———————————————
6. Free ride!
From 7 a.m. to 7 p.m. tomorrow (Saturday, Dec. 12), all Healthy Ride bike share stations are offering
unlimited free rides
.
———————————————
From the pages of this week's print edition:


Staff writer Ryan Deto explores
whether the city's African-American population is benefittng from Pittsburgh growth
.
Deto questions Mayor Bill Peduto's early November tweet about a local analytics firm's study on the changes in East Liberty: "So far Pittsburgh's East Liberty neighborhood has avoided gentrification while reducing crime & improving investment."
Deto also spoke to local filmmaker Chris Ivey (pictured at right), who notes there has been a demographic shift in East Liberty since 2000, with the numbers of blacks declining three times as fast as whites, according to U.S. Census data. Census data also indicate that the northern tract of East Liberty lost hundreds of African-American residents since 2000, and that the median black income there went up 14 percent as a result — or, as Ivey puts it "poor blacks moved out."
In fact the trend during the 2000s has been that African Americans are moving farther out of central neighborhoods. By 2010, Deto writes, large black populations emerged in historically mostly-white suburbs such as McKees Rocks, Swissvale, McKeesport and the eastern portion of Penn Hills. According to U.S. Census figures, 2010 was the first time in 100 years that the percentage of the city's black population declined.
"Unfortunately in Pittsburgh, we have a tale of two cities," says Pittsburgh City Councilor Daniel Lavelle. "One that is considered most livable and one that has one of the most impoverished African-American communities in the entire country."