News spread quickly over social media yesterday that East Liberty's "Lend Me Your Ears," a Sprout Fund mural created by Jordan Monahan in 2004, was being painted over to make way for new development.
City Paper
photographer Heather Mull
photographed local filmmaker Chris Ivey in front of the mural in 2007
for a feature highlighting his documentary
East of Liberty: A Story of Good Intentions.
"The documentary explores the past, present and uncertain future of a long-suffering Pittsburgh neighborhood now facing gentrification."
Coincidentally, Ivey was also photographed
in East Liberty for our main news story
in this week's issue , where reporter Ryan Deto questions whether Pittsburgh's future growth includes the city's African-American community.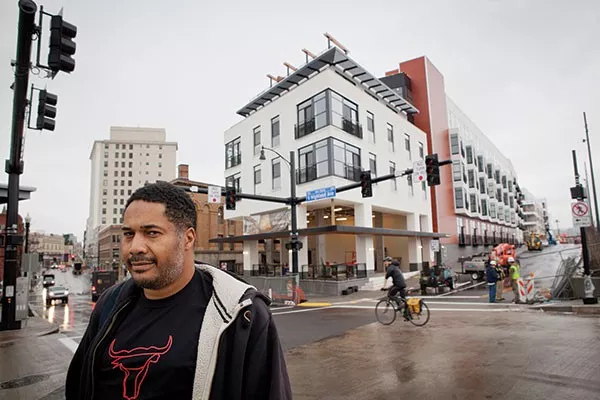 With the recent developments about the mural unfolding online, we thought it interesting to post the photos together, as a throwback comparison to how much things change over the years, and perhaps, how much they stay the same.