Here's what went down in Pittsburgh this week: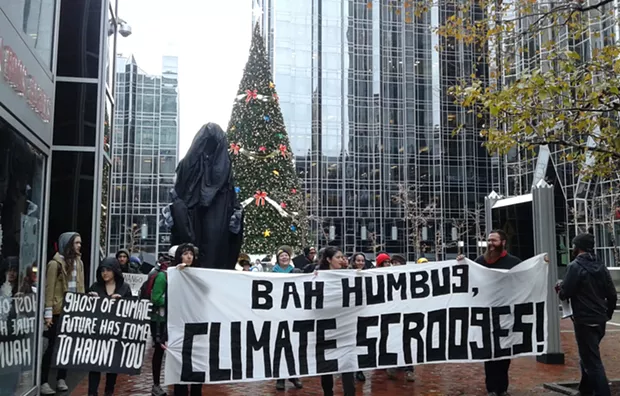 On Tuesday
, the "Ghost of Climate Future" could be seen marching through downtown Pittsburgh as part of
A Christmas Carol
-themed protest against climate change. Organized by Three Rivers Rising Tide, the
demonstration called out ties between local corporations and the Allegheny County government
, calling them "climate Scrooges."
————————————————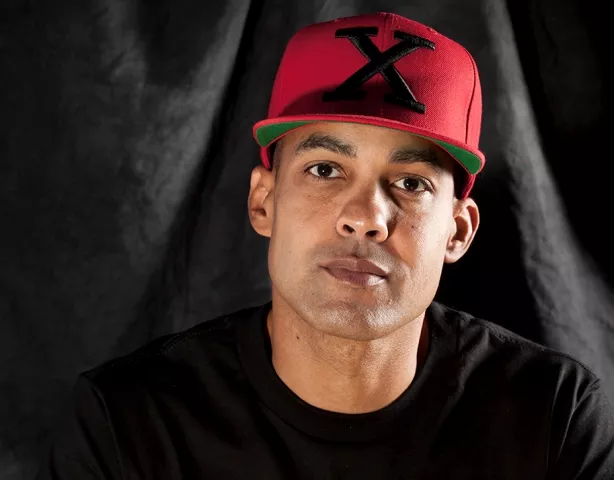 Jasiri X
will be honored tonight
with the Urban League of Greater Pittsburgh's 2015 Ronald H. Brown Community Leadership Award. The award recognizes leadership in promoting public service and civic engagement and is named for the late U.S. Secretary of Commerce. The organization Three Rivers Youth and Ron Lawrence, a founding member of 100 Black Men of Western Pennsylvania, will also be honored. Jasiri X was also voted
best local hip-hop performer
in
City Paper
's 2015 Best Of Pittsburgh reader's poll.
————————————————
Police arrested
Anthony Mohamed Wednesday morning in
connection with the nonfatal shooting of a Muslim taxi driver
in Pittsburgh's Hazelwood neighborhood on Thanksgiving morning. Local and national Muslim organizations are asking Pittsburgh Police and the Department of Justice to investigate the shooting as a hate crime. Pittsburgh Police say the investigation is ongoing and will not confirm whether it will investigated as a hate crime.
————————————————
This week
Pittsburgh City Council considered a measure sponsored by District 9 Councilor Ricky Burgess that would provide resources for the city's most disadvantaged neighborhoods to undergo comprehensive community planning. "A lot of our communities, especially our poor communities want to see development," said Burgess. "But they don't have the capacity to really form collaboratives or they don't have the money to do comprehensive planning."
Burgess said his proposal would replicate success that has been seen in Larimer where community planning has led to several residential and commercial developments in recent years.
"The goal is that each of the communities over years would get the attention of the city, the resources of the city," says Burgess. "If left up to itself, we'll never get to some of these neighborhoods, we just won't. What this does is systematically every year pick three or four of them. So over the course of four or five years we will reach all of these communities and give them access to what we know works which is comprehensive community planning."
————————————————
From the City Paper website:
City Paper
and the Instagram group SteelCityGrammers
teamed up for a photo essay of Pittsburgh's neighborhood of Homewood
. Go behind the scenes in this video to see the people they met and the images they captured.
————————————————
From the pages of this week's print edition:

Ten years ago, the Bethlehem Haven emergency women's shelter was faced with a decision. Homeless transgender women were turning up at its doorstep and the shelter's administrators had to decide whether to admit them.
For Marcia Snowden, who lived as a nun for 36 years, it was a no-brainer.
"I didn't wrestle with it at all. All we saw was a person who was going to be out in the cold if we didn't find a place for them," Snowden says. "These are people. And to see the agony in their eyes — there is no place for them to go — was very, very difficult. I could not have turned them away."
And thus began an off-the-books policy of admitting trans women to Bethlehem Haven.
Today, the shelter is listed on the Allegheny County website as the shelter for trans individuals. Its evolution over the years is a model for how shelters can adapt to meet the needs of transgender homeless populations.
Read the full story
here
.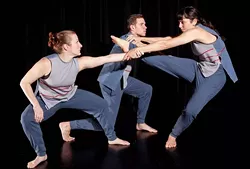 What if Monet or Rodin had editors? How would that have affected their artworks? Would George Balanchine be considered as great a choreographer if someone else had a say about what movement stayed or went in his choreography?
Sparked by "Do choreographers need editors?," a 2014 article by Judith Mackrell in London's The Guardian, Pittsburgh natives Shana Simmons and Erin Carlisle Norton and their respective companies explore the idea of outside editing in dance in Objective I, Dec. 4-5 at the Kelly-Strayhorn Theater's Alloy Studios. The split-bill production by Shana Simmons Dance and New York-based The Moving Architects is the first installment in the theater's Alloy Creation Lab, a residency series supporting collaborative experiments.
"The article struck a nerve with me in a way I have never thought about different art forms and the processes they go through, such as authors and their books and directors and their movies," says Simmons.
Simmons, an adjunct professor at Point Park University, sees that dance attracts fewer dollars and devotees than art forms that undergo a formal editing process, such as fiction and film. "Such an editing process could potentially be a way of shifting dance to be more accessible to people," she says.
Continue
to the full story.