After a short rally on a cold morning near the Wood Street T station, more than 30 workers spoke to the Port Authority board, expressing their desire for bus service extensions to the North Hills, Penn Hills and Garfield. This is the second consecutive meeting that saw a large number of residents requesting service directly to the seven board members present.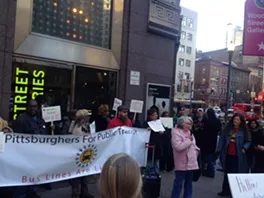 "We are out here to ensure that every community in our area gets the bus service that they deserve" said Molly Nichols of Pittsburghers for Public Transit, an advocacy group, during the rally.
Those communities requesting service are the North Hills, Garfield and Penn Hills.
David Barkovich, Dean of Academic Affairs at North Hills High School, spoke with two high school students, who said they need a bus to get to the Northland Public Library in McCandless and the CCAC North Campus, which a quarter of North Hills High students attend after graduating.
"I believe the heart of our community is education," said Barkovich. "And right now there is a deficit to get people to the education resources at CCAC and Northland library."
North HIlls High, Northland and CCAC all sit on Perry Highway, which has little to no sidewalks and no current bus route.
Garfield resident Kevin Martin said his community needs weekend service because the communities at the top of North Aiken Avenue are stranded on Saturdays and Sundays. (The 89 PAT bus route that services the hilly region of Garfield only runs on weekdays.)
"On the weekends, we cannot get off this hill," says Martin. "We are trying to get to church or to the store, it is very difficult."
According to a Pittsburghers for Public Transit press release, "Penn Hills residents are asking for midday service along the route of the P17, near Mt Carmel Road. The few trips during rush hour are not meeting the needs of the community."
PAT spokesperson Jim Ritchie said that public comments submitted via email, telephone, or letter will be accepted through November and then the service suggestions will be evaluated by the board through an equity score process, which CP wrote about
here
. According to PAT staff, more than 600 request have been submitted as of last week. Barkovich hand delivered an additional 117 at the meeting.
Ritchie said that while there is a formula now in place to evaluate service requests, personal anecdotes by residents "certainly are a factor" because people speaking are "bringing to life the requests." He also noted, that the more requests a certain route gets, the more weight it will have.
But, according to Ritchie, just because they came in person, does not mean that they "jump to the front of the line" in terms of service requests. Ritchie admitted that the authority will have a tough decision to determine where to make service changes.
Before the flurry of statements by residents, PAT CEO Ellen McLean thanked the residents for speaking at the meeting, but said "any and all service changes are dependent on resources."
Service change request for the next fiscal year will be taken through November. Any request submitted after that time, will be considered for the following fiscal year of 2017-2018, according to Ritchie.