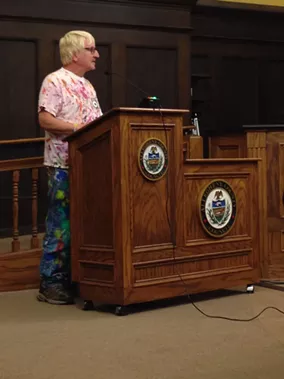 Allegheny County no longer has a set-aside revenue source for public art. At a Nov. 17 county council meeting, an amendment to the county's public art rule was passed 11-4, striking the two percent allocation from public construction projects that is suppose to go to a fund financing public art projects. The law was passed in 2005, but
has never been enforced
.
Renee Piechocki, director of the Greater Pittsburgh Arts Council's office of public art, was one of more than a dozen speakers who spoke in protest of the council considering stripping the potential funding. She said she was "disappointed" with the vote and suggested to the council that "rather than go back to zero, simply amend the bill so it functions better and then actually do it."
She added that many public art jobs can be considered construction jobs for local workers. "Could you imagine amending a bill that does not support construction jobs?" she asked county council members.
Carnegie Mellon University art professor Andrew Johnson also spoke to the council and asked council to postpone the vote until a large discussion with stakeholders could be had.
Johnson submitted a letter to council signed by four professors at CMU and the university's dean of the college of fine arts. "As artists, educators and residents of Allegheny County, we are mystified as to why a vote on our current percentage for the arts law is being held tomorrow night with little notice to key players in the arts, including members of the City of Pittsburgh Art Commission," read the letter, which was sent to
CP
from CMU faculty.
Democratic Council member Michael Finnerty of Scott, says he has "great regards for art" but added that he does not think that the council "should have tax-payer money set aside" for public art.
"We should establish a committee where the public can come forward and ask council for funding," said Finnerty speaking on a project by project basis.
At-Large Repulican Council member Heather Heidelbaugh was one of the four dissenting votes for the removal of the funding stream and said that "public art is important to the psyche of the people." Democrats Amanda Green-Hawkins of Stanton Heights and William Robinson of the Hill District, one of the original sponsors of the 2005 public art ordinance, also voted to reject the amendment.
Democratic Council member Terri Klein of Squirrel Hill, introduced new legislation after the vote that would reestablish a revenue source for public art. Her ordinance would differ slightly from the old ordinance and set aside a smaller percentage of county construction projects.
"I have spoken to my constituents and they firmly support public art," says Klein, who voted no on the amendment. "I think it is a fair question for the taxpayers [to vote on]."
Carolyn Speranza of PGH4ART, an advocacy group, says she was upset with the decision by excited by the possibility of Klein's new ordinance. "Out of this, you could see a bunch of artists go out and knock on doors and get people to sign petitions for public art," she says.
Klein's ordinance was sent to the committee on government reform, where it will discussed further before potentially being sent back up to county council for a vote. The committee on government reform typically meets on select Wednesdays at 5:00 p.m. in Conference Room 1 of the first floor of the county courthouse. Check
alleghenycounty.us
for schedules.