We slog through the twitter streams of the 2016 Presidential candidates and give you a weekly round-up of the more entertaining ones, every Friday.
This week saw another GOP contender drop out — Louisiana
Gov. Bobby Jindal
packed it in. The campaign has been rough on governors — we've already lost Texas'
Rick Perry
and Wisconsin's
Scott Walker
. There are still four current or former governors left —
John Kasich
,
Jeb(!) Bush
,
George Pataki
and
Chris Christie
— and so far none of them have been electrifying the electorate.
Elvis has left the building.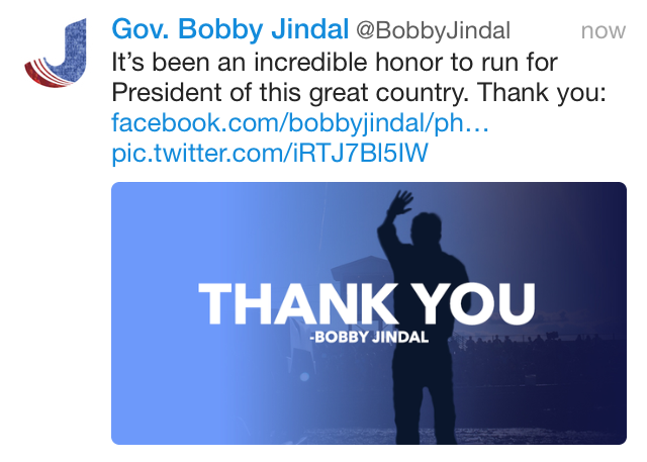 Most of the GOP candidates went full froth after last week's Paris attacks — screaming for banning Syrian refugees, ramping up the military in Middle East or blaming Obama for everything. Among them, give
Rick Santorum
points for crafting a not-so-funny zinger that rips on Obama's foreign policy and Bill Clinton's decades-old sexcapades.
Unclear what the strategy is if attack is in the front yard:
Trump
and the High Low Art of the Burn:
Ben Carson
took time off from bungling foreign-policy statements to knock some balls around with Fox News.
Admit it: A U.S. President showing up to negotiate with Putin WHILE WEARING THIS BELT is something you want to see.