This week Bike PGH launched a crowdfunding campaign to help fund its organization for next year, with an emphasis on safer streets. This launch comes the same week that the bicycling and pedestrian advocacy organization is
pushing greater driver accountability in car/bike crashes
as a way to increase public safety in the region's streets.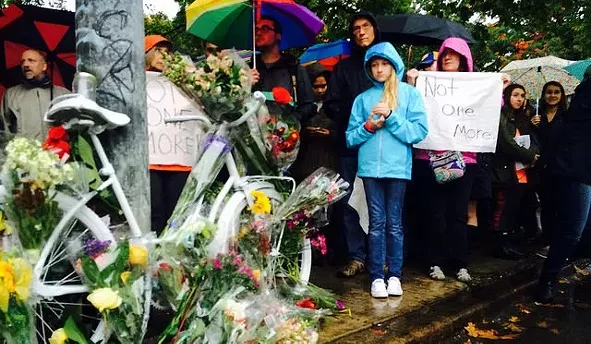 Jane Kaminski of Bike PGH says that money donated will feed into all of the organization's programming, but there is a special emphasis on "getting people to feel more comfortable biking."
She says that Bike PGH's main focus areas for next year are as follow:
Finish the city's Complete Streets Policy (Mayor Bill Peduto issued an executive order in April calling for streets to be designed with pedestrians, cyclists, public transit and cars in mind).

Connecting the Penn Avenue protected lane to Point State Park (it was recently extended a block to Stanwix Street, but still has one and half blocks before reaching the park).

Expanding the OpenStreets festival events to new neighborhoods.

Continuing work on increasing safety on Oakland streets.

Further developing our education program, including the City Cycling program for adults and the Positive Spin program for youths.
Bike PGH is crowdfunding through GlobalGiving.org, which can be viewed
here
, and all donations $10 and over include incentives that show where the gathered funds can specifically go. For example, $25 will provide a student with a bicycle helmet and $100 dollars pays for an hour instruction session for an adult taking Bike PGH's city cycling class.
And in addition to their crowdfunding initiative, Bike PGH will launch further donation campaigns and will feature stories of Pittsburghers who have been positively affected by their work starting Dec. 1. These campaigns are all part of the organization's yearly drive to raise general funds for the upcoming year.