The protests started around 6 a.m. yesterday with a sign posted on the door of McDonald's on Stanwix Street saying the restaurant was closed due to a strike. According to Jen England, spokesperson for advocacy group Action United, the workers at the Downtown McDonald's were on a morning rush-hour strike. The effort was part of a strike in 270 cities nationwide.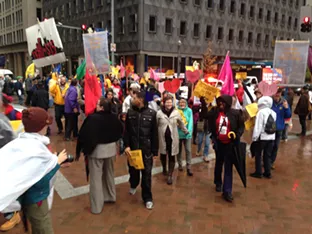 Later in the afternoon, more than 300 supporters joined the fast-food workers and marched through Downtown streets calling for a $15 wage and the right to form a union, an
ongoing battle for many service workers
. The protests were held on a cold and soggy November afternoon as a reminder that one year from now, Americans will head to their polling places for the 2016 elections.
According to a release from SEIU Heathcare, 64 million Americans, including more than 2.5 million Pennsylvanians, are paid less than $15 an hour.
The march was generally cordial, except for a three-minute stretch when marchers overtook the Grant Street and Sixth Avenue intersection and police vehicles blared sirens to get them to exit the middle of the road. At the next intersection (Grant and Fifth), one officer appeared to be on edge, turning on his sirens and honking his horn continuously while protesters were crossing the street, even though they had a walk signal.
Once under the arches of the City-County Building, the chants and drums grew louder as workers from hospitals, nursing homes and fast-food restaurants filled the space around the recently erected giant Christmas tree. Ashona Osborne, a single mother from East Hills, spoke to the crowd about her struggles and why she and her fellow workers are fighting for an increased wage.
Osborne works two part-time jobs, one at McDonald's in Penn Hills, the other at the Pittsburgh Zoo. She works seven days a week and averages less than $8 an hour. "I am protesting so I can maybe work just one shift each day and have more time to take care of my son," she says. "I deserve to have some sleep and afford a vacation."
Osborne's friend Lena Germany also works at McDonald's and repeated many of the same sentiments. The 23-year-old works in the North Side and commutes more than an hour from McKeesport. Germany, like Osborne, has a 5-year-old son, but she says she was forced to give him up for adoption because she could not afford his medical bills. Germany says her son suffers from chronic illness.
According to Germany, she makes a little more than $300 every paycheck and she struggles to save money. "Once I am done paying all my bills, I have nothing left over," she says. "Sometimes I am ready to break down and I cry, but I have to keep going."
In response to the protests, City Councilor Ricky Burgess and Mayor Bill Peduto's chief of staff, Kevin Acklin, spoke to the large crowd. Other politicians, like Pennsylvania
U.S. Senate candidate Katie McGinty
, have recently shown their support for a $15 minimum wage, too.
"We are not gonna let any industry stand in the way to [allow you] to unionize," said Burgess over a loudspeaker.
Acklin acknowledged the mayor's executive order earlier that day that requires all city workers to be paid a minimum of $15 an hour. He also called for legislation to require the same for workers contracted by the city. He says such moves are a victory for the city and its citizens.
"We come here to work on your behalf," said Acklin to the crowd in front of the City-County Building. "What keeps me coming to work today is the fight for 15."
However, Acklin added, he recognizes that "this is just the starting line, we still have a long way to go."