Next year, Pittsburgh will celebrate it's bicentennial and earlier today, Mayor Bill Peduto revealed how the early days of Pittsburgh's next 200 years could look when he presented his proposal for the city's 2016 budget to Pittsburgh City Council.
By all accounts the proposal would increase funding for city infrastructure, such as $9.6 million for facility improvements to public safety facilities and parks, while also ensuring the city fulfills its financial obligations in debt and employee benefits.
"This budget balances the need for increased and enhanced services for city residents with the need to ensure long-term financial stability and investment in the city's infrastructure, communities and residents," Peduto said.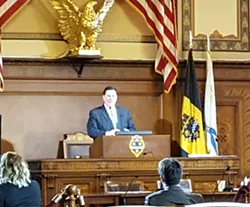 Today's presentations was as much a look at the city's future financial prospects as it was a look back at the steps Peduto has taken during his first nearly two years in office to increase the city's financial stability. Peduto's proposal will continue that work by setting a goal to reduce the city's debt burden from 17.1 percent of general fund expenditures in 2016 to 8.8 percent in 2020.
"We have the ability now to be able pare it down, not just to the national standard but below it," said Peduto. "What does that mean for the typical city taxpayer? Through prudent financial management that means we will have the ability to put more into our infrastructure, more into our streets, our roads, our parks, our playgrounds, our rec centers and seniors centers."
Peduto also highlighted how he has reorganized city government so that today there are 66 fewer employees than there were in 2014. These efforts, Peduto said, will allow the city to make contributions to other areas that will impact city residents.
"That also means we have the opportunity, and I would say the responsibility, to increase what we're putting into our pension contributions," said Peduto. "The city has steadily increased its pension contributions to the pension system, but we need to do even more and we will. We will contribute $150 million above the minimum municipal obligation over the next five years."
But there's more to the budget proposal than dry responsible measures like pension contributions and debt reduction. Peduto's proposal includes funding to pave 60 miles of city streets, provide school crossing guards with radios, hire 120 police recruits, and commission a new mobile app for the city's 311 Response Center.
"I challenge all of us to the challenge that the mayor [has] presented us this morning to pass a budget that reflects this rich and wonderful history of Pittsburgh and the people we serve," council president Bruce Kraus said.
City council will vote on the mayor's proposal in coming weeks. To view the mayor's presentation
click here
.