We slog through the twitter streams of the 2016 Presidential candidates and give you a weekly round-up of the more entertaining ones, every Friday.
Clear eyes, full hearts, could lose.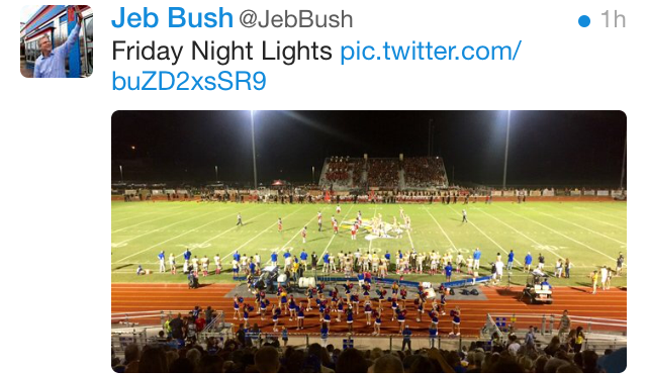 Not much participation from candidates on Halloween.
Rand Paul
went as "The National Debt" a.k.a. $18 trillion
Bush
tweeted out an old photo. Memo to Jeb: Never a good look for a politician to be literally emblazoned with sponsor logos.
Santorum
fired up his Second Amendment rights and shot a bunch of birds. Then he fired up his First Amendment rights by threatening to shoot reporters.
Hillary Clinton
cops to being guilty ... of pizza

Trump
proves he has skills to rule the sixth-grade school yard.
And
Huckabee
cleaned up. (This may be the greatest selfie of the campaign yet.)